This article will walk you through how to update the criteria for your featured and new listings sections on your Brivity website.
Step 1: Login to your website builder: https://login.brivityidx.com
Step 2: From the home screen you will see your sites here. Choose which site you'd like to work with and in the bottom left of the box click the Edit icon.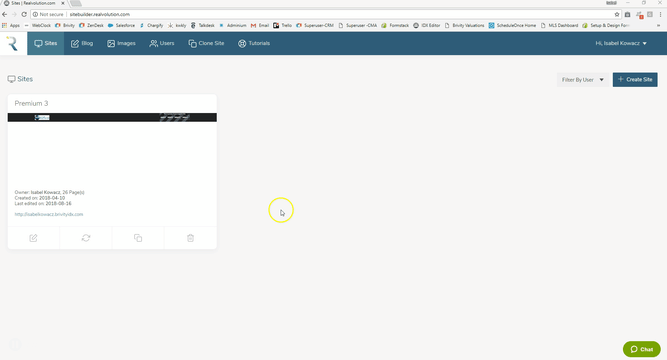 This will open a new browser window to the backend of your site.
Step 3: Scroll down to the block you'd like to set criteria for and select Details from the menu in the top left of the builder.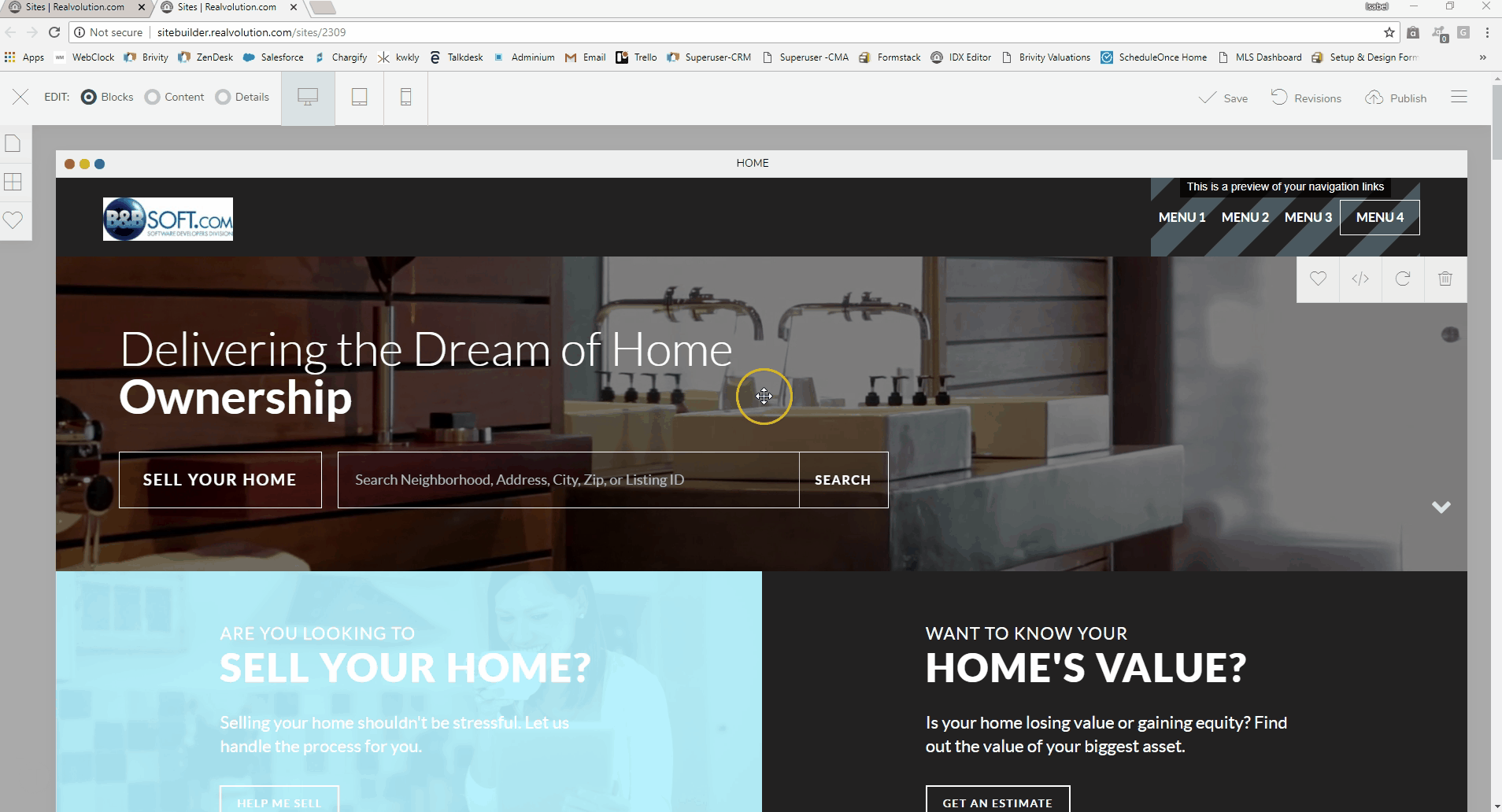 Step 4: Click inside the red dotted box that includes the property thumbnails. This will open a Detail Editor menu on the left hand side of the screen.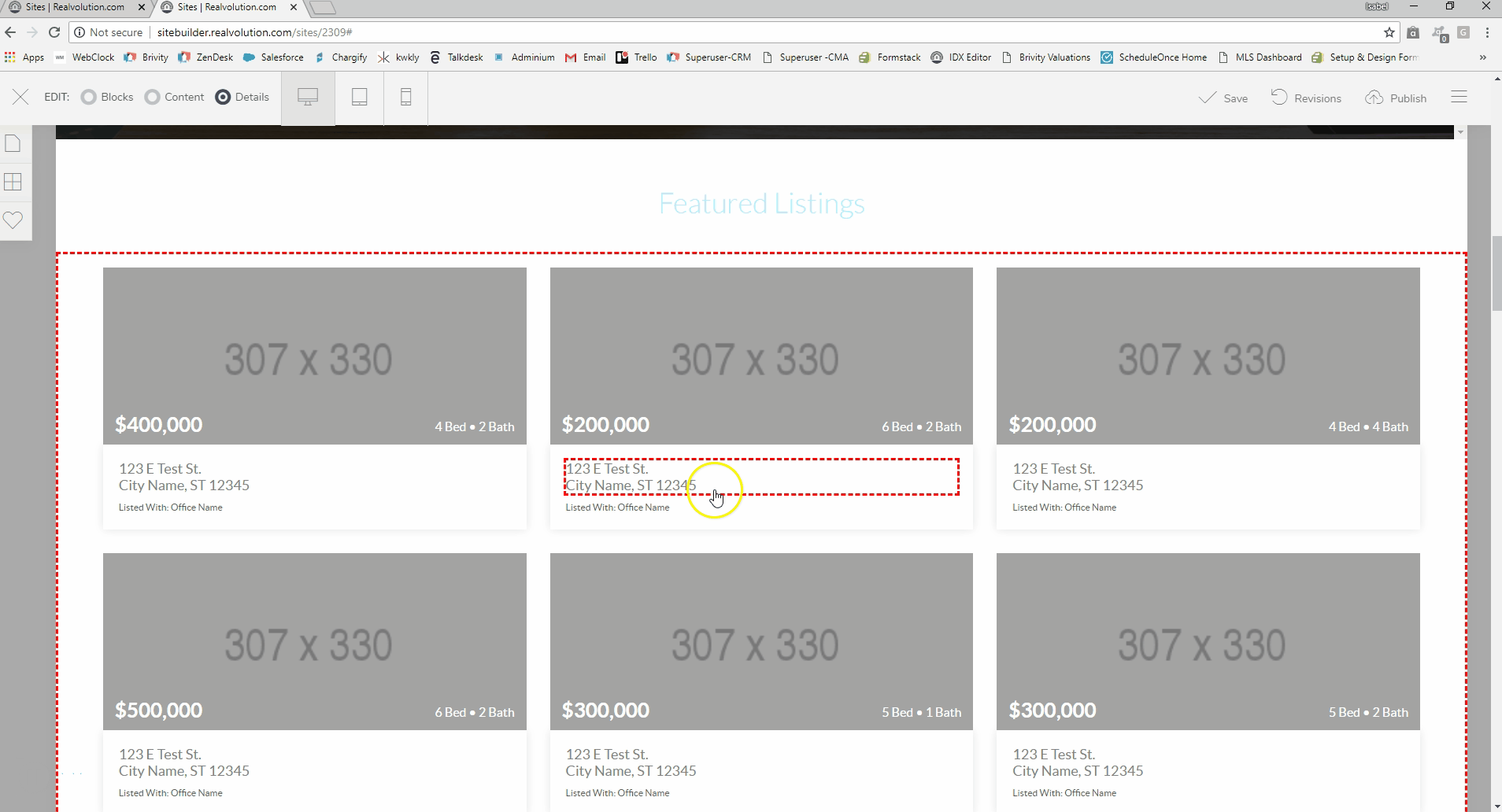 Step 5: Select the state you'd like featured. This will populate with MLS's available for that state. Select the MLS you'd like to feature in this section.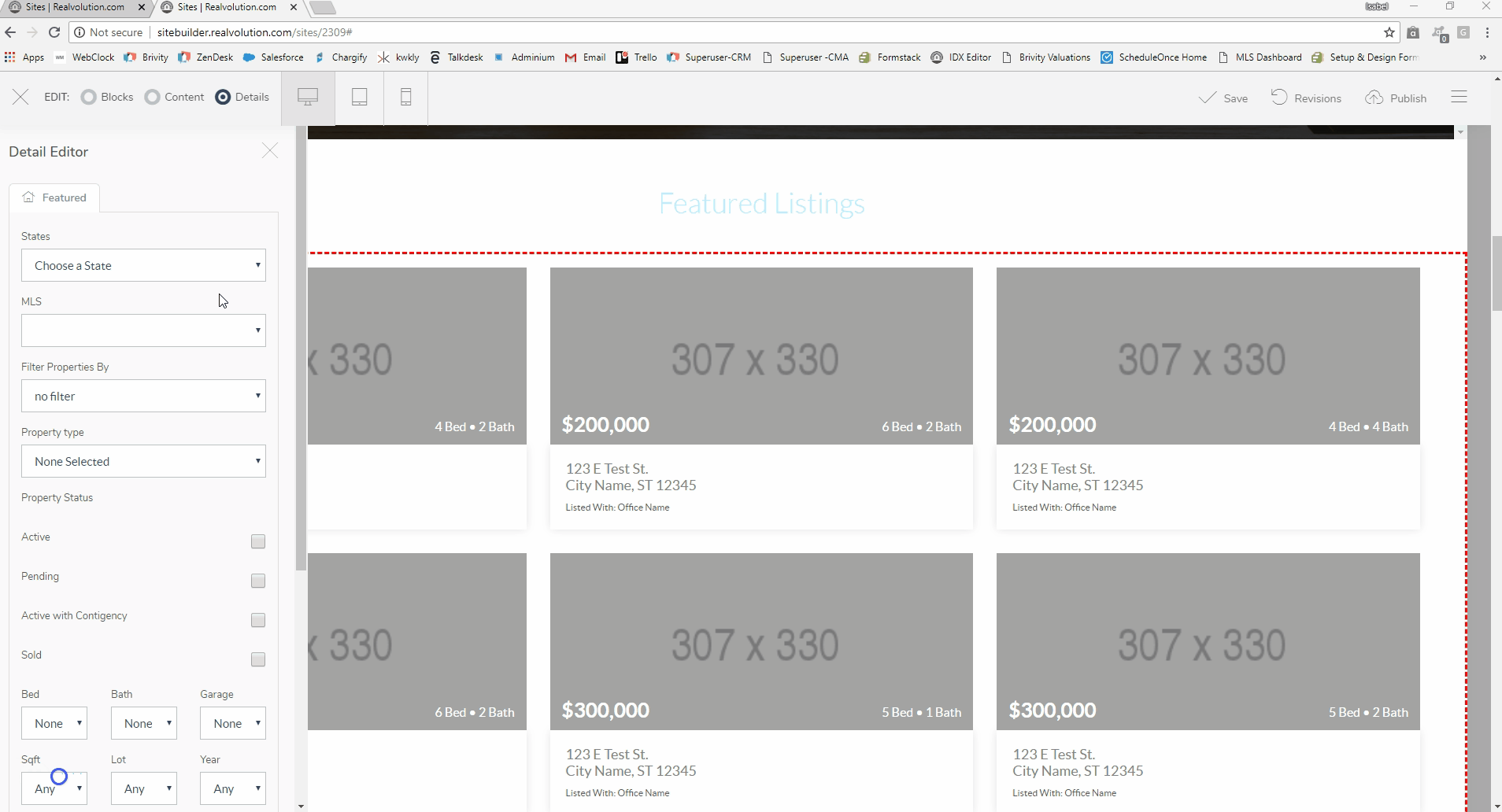 From this menu you can really customize the properties that show on your website. You can Filter by:Agent ID, Office ID, Property Type, Property status and even Bed, Bath Square ft. and more!
*While you do have all of these wonderful options for filter, keep in mind that the wider the criteria the more likely you are to have all slots in this block populate with properties from your MLS. If there are not enough properties within the criteria to fill the section, it will only populate the properties that match and the remaining spaces will appear blank.
Step 6: Set a price range
The properties in this section will populate the highest priced listings first. Meaning that if you set your Max Price for $1 million. All of properties closest to $1 million will show up first.
Step 7: Save in the Detail Editor, in the builder and publish!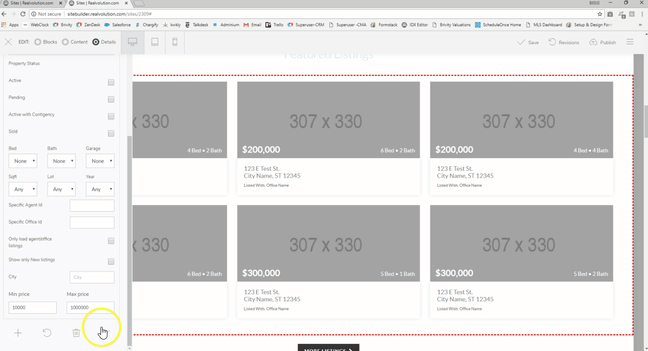 You can view the changes by visiting your site. If you don't see the changes reflected on your site immediately try clearing your cache or viewing in a different browser.
Prioritizing Agent and Office Listings
From the details editor you can prioritize your office and agent ID's so the section populates your listings and your office listings first.
Scroll to the fields that read Specific Agent ID and Specific Office ID and input your office and/or agent ID you'd like to prioritize.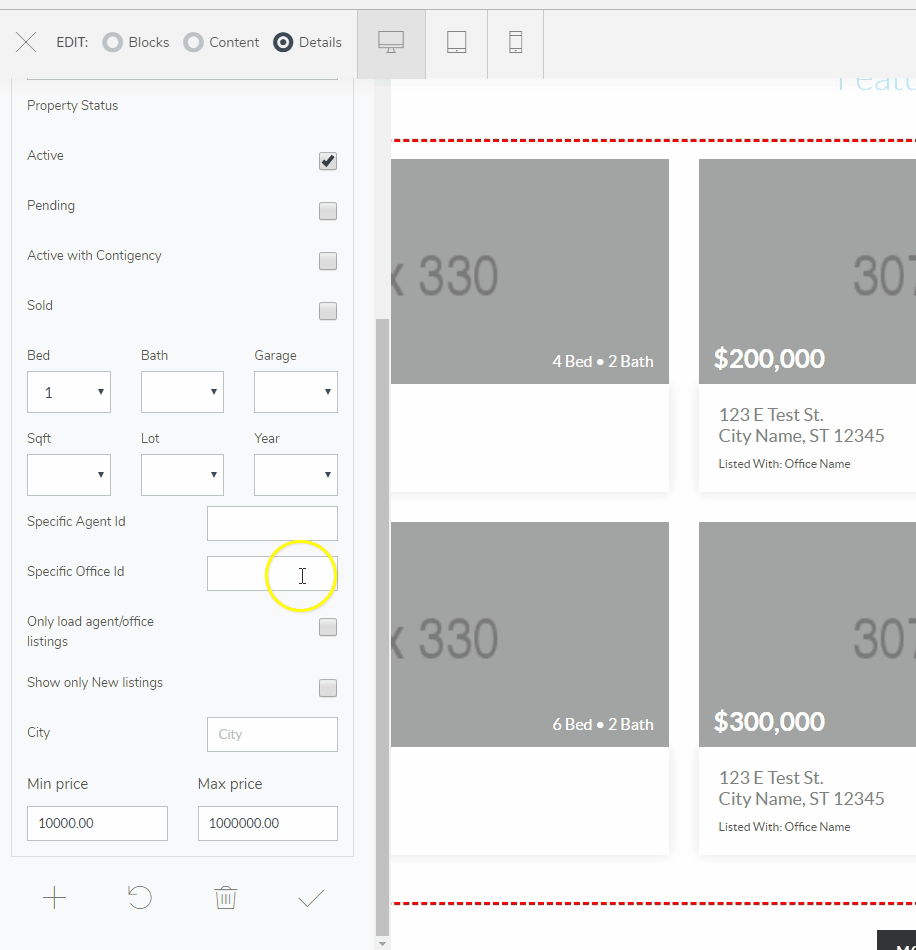 *Below these fields there is a checkbox option to show ONLY your agent/office ID's. If this box is checked and there are are not enough listings under the office and agent ID's input the remaining spaces will appear blank. If left unchecked, this section will first include agent/office listings and populate any remaining spaces with listings from within the MLS that meets the remaining criteria.
Show Only New Listings
If you select show only new listings within the Details Editor, please note that new listing are considered new within the last 24 hours. Because of this you will want to set the criteria around new listings to be broad to ensure that properties consistently populate on your site.
Filter by Area
You can filter these property sections by any area that is searchable within your MLS by entering this into the City filter toward the bottom of the Detail Editor.
Simply start typing and a list will populate. Select from the drop down.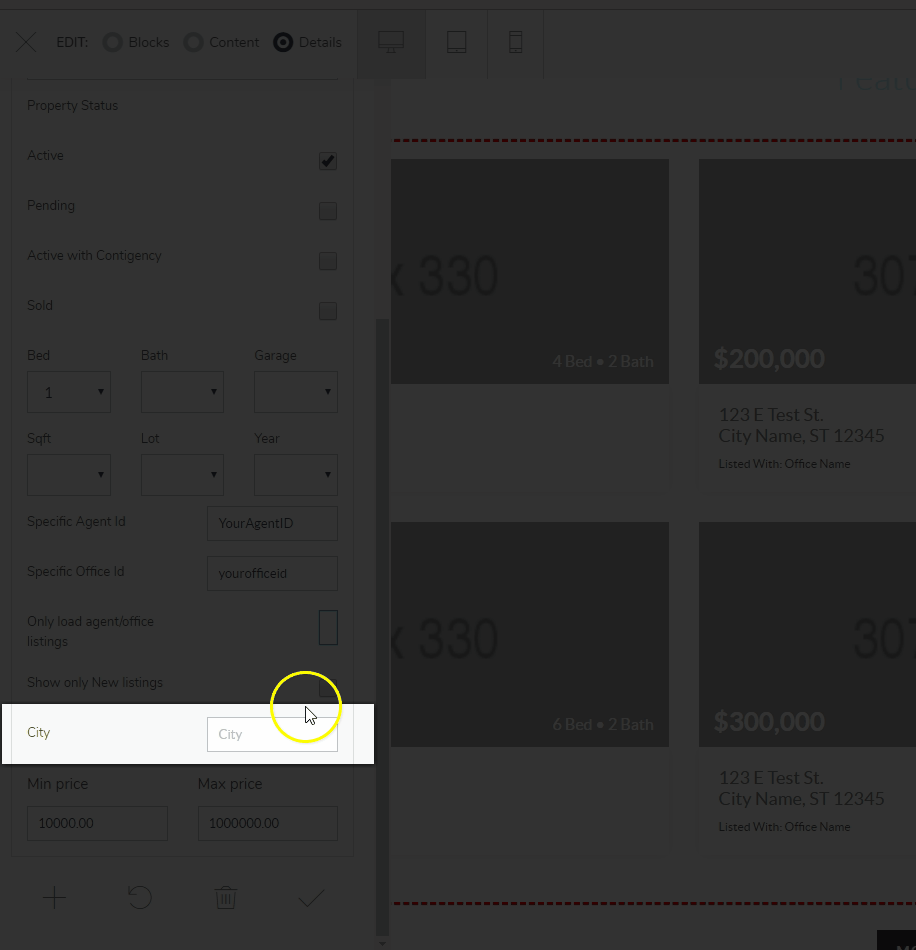 If you have any questions or need additional support please contact our support team at support@brivity.com or give us a call at (855) 427-4848.
Thanks for being a Brivity Subscriber!