Marketing settings determine how often you'll be reminded to post Listings from the Marketing page. When choosing a frequency, take into account how many Listings you have versus the maximum number of posts you want to make per day.
Step 1: Click the drop-down from your name in the upper right corner and select Settings.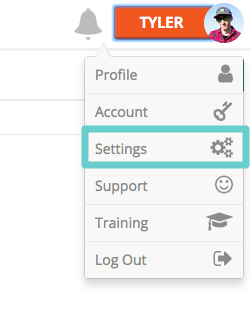 Step 2: Select the Marketing tab in the Context Bar.


Step 3: Click and drag the orange bar to set how often you want to be reminded to post to Facebook, Twitter, Pinterest, Google+, Craigslist, and ActiveRain.

Step 4: Click Save Changes before leaving the page to save your changes.

Our Recommendation for posting frequency:
It's tricky to hit that sweet spot on social media where you post as often as you can without losing followers. This is only a recommendation. But if you have around 30 listings, we recommend posting to
Facebook every 10 days (2 posts per day)
Twitter every 3 days (10 tweets per day)
Pinterest every 20 days (~2 pins per day)
Google+ every 15 days (2 posts per day)
Craigslist every 7 days (3 posts per day)
Active Rain every 30 days (1 post per day)
Step 5: You'll know it's time to post your listings when the Marketing horn on the left of your account is yellow.