Getting Started with Brivity CRM
Setup Text & Email Lead Notifications
Respond to leads faster by making sure you're set up to receive text and email notifications.
Step 1: Click on your name and find Account. Navigate to the Personal Tab.

Step 2: Find & set the Routing Number (this is your actual mobile phone number).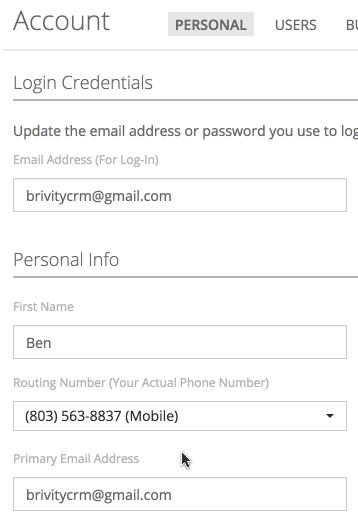 Step 3: Scroll down to find Lead Notification Settings to ensure they are on.

You should now be set up to receive lead notifications! Lead Notification emails will come from messages@brivity.com, and text notifications will come from (360) 526-8915.
*Note - if you are an account owner or administrator of a Brivity Platform account, you can set the Text Routing Number for all users at once from the Phone Settings page.

Brivity GO App: Receiving new leads and changing the primary agent for a lead in Brivity GO also adds a timeline event and sends a lead transfer notification to the new agent.