Make it easy to allow leads to register in one click with Social Registration! To get started, log into your Facebook account.

Follow the Facebook registration steps mirrored below.
If you get lost in Facebook steps, come back here for guidance. Create a New App ID (name it your business or something similar for you to recognize).
Step 1: Go to developers.facebook.com and in the upper right, click Get Started (sometimes this says Log In).
You should see a "Welcome to Facebook for Developers" screen. Follow through the prompts. It will ask questions to verify who you are.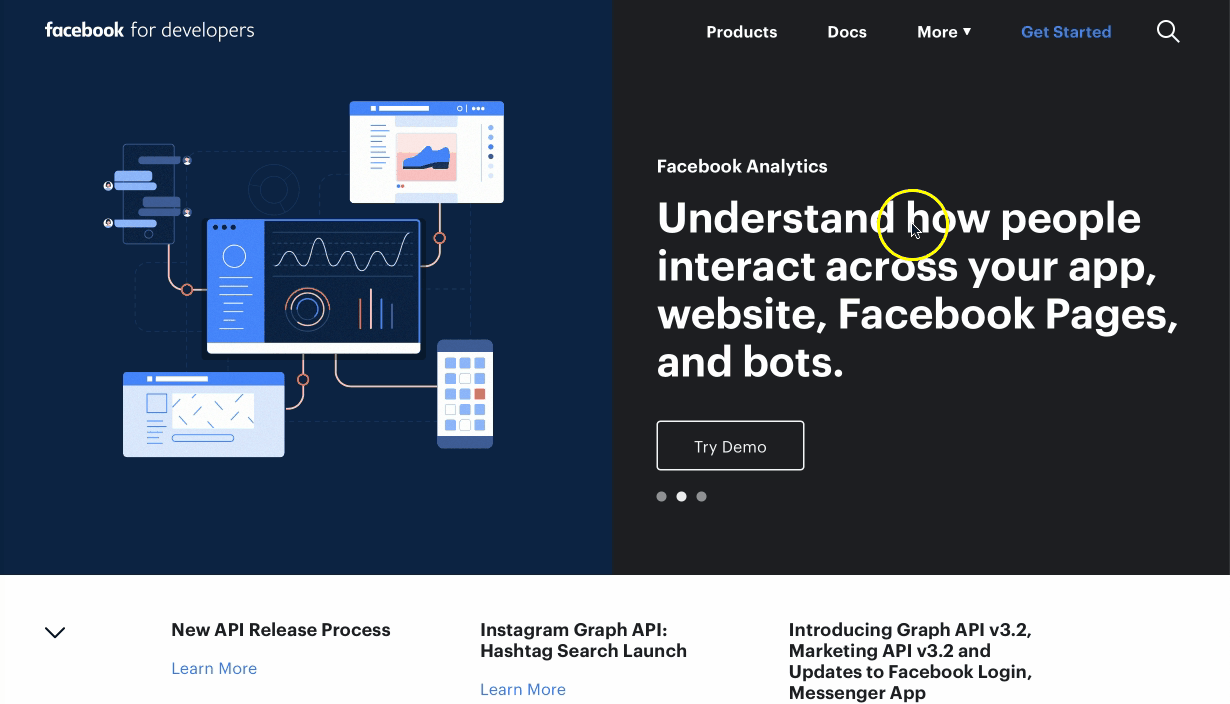 Step 2: It will ask you to name your app. Be careful that this is something you want to be displayed publicly.

Step 3: Now it will ask you what you do. If you're setting this up, you should be the owner of the Brivity website you're trying to connect. Select that you're the Owner/Founder. Then select Add Your First Product.

Step 4: Choose Facebook Login - Set Up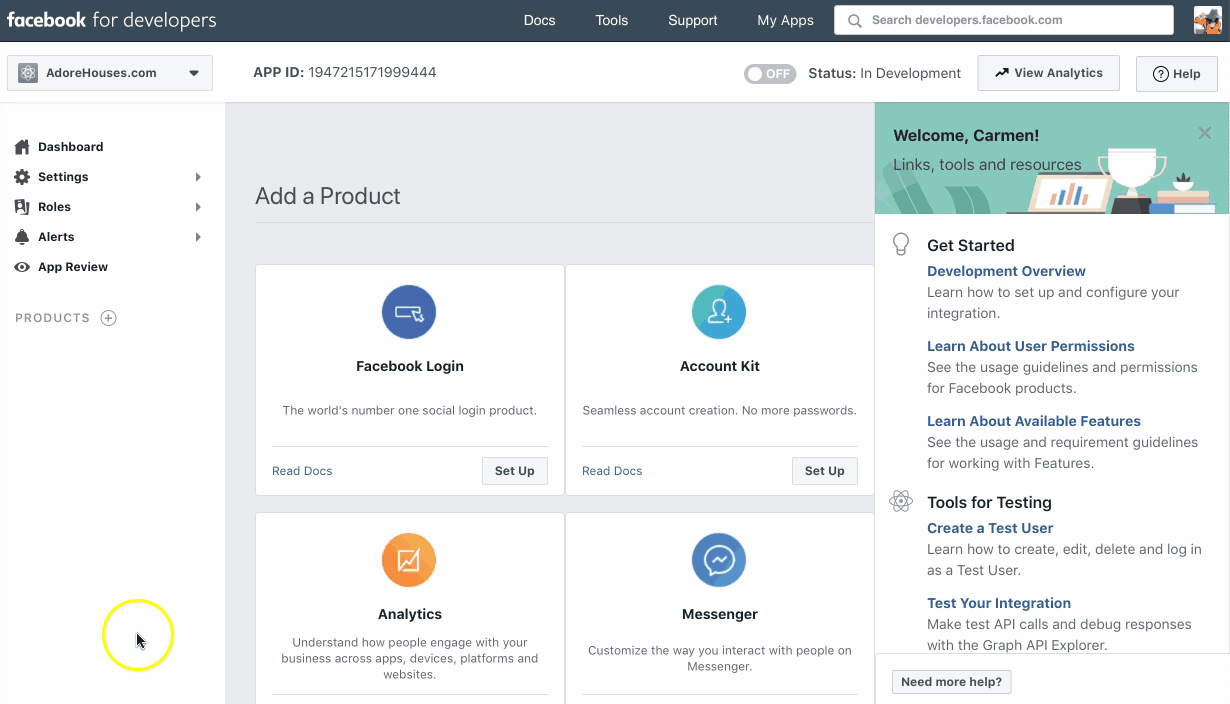 Step 5: Choose a Platform. Choose "www".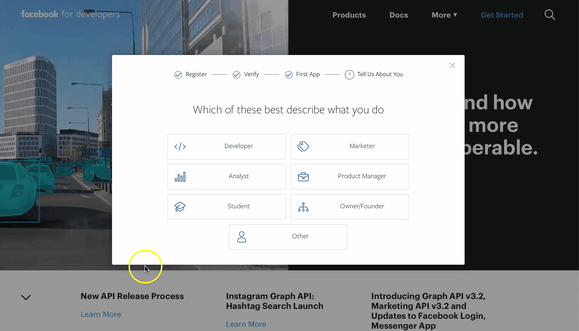 Step 6: A form will pop up and ask you the name of your custom URL. Do NOT put anything but your site name in the format of website.com - do NOT use http:// or www before your custom domain name. See below example.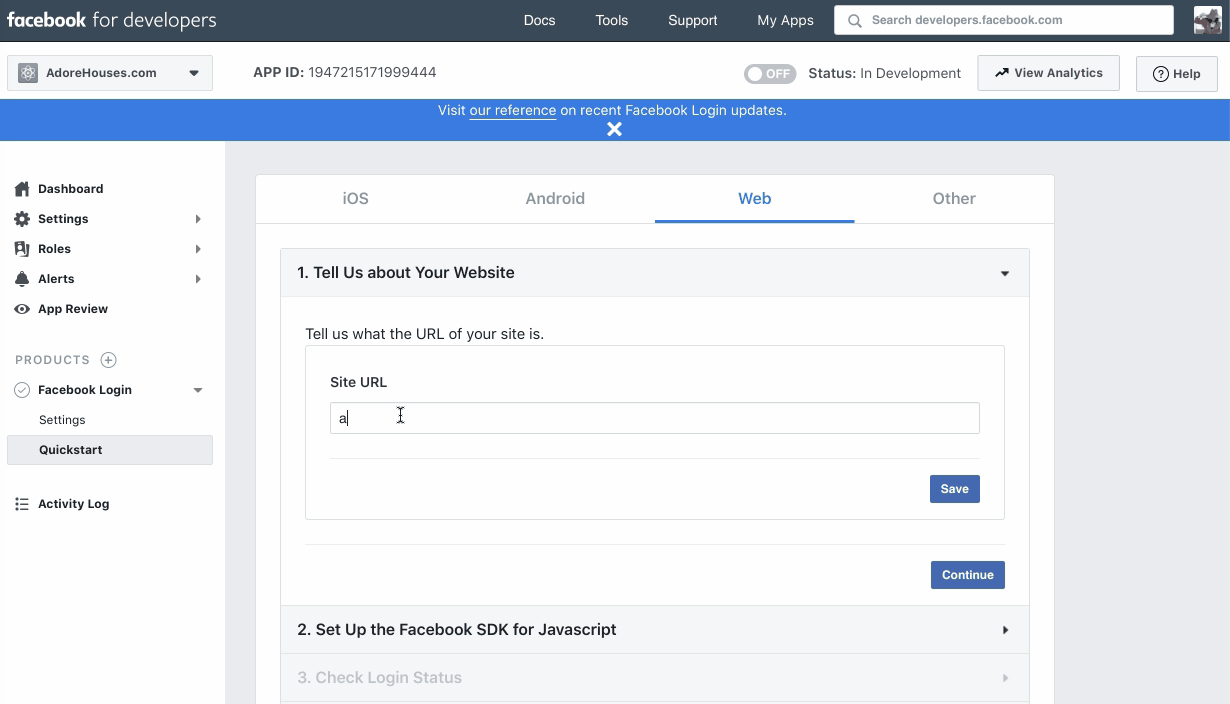 DO NOT follow the rest of the steps of the form- we've done that for you.
Instead, follow the next step here.
Step 7: On the left sidebar of your account, navigate to Basic Settings.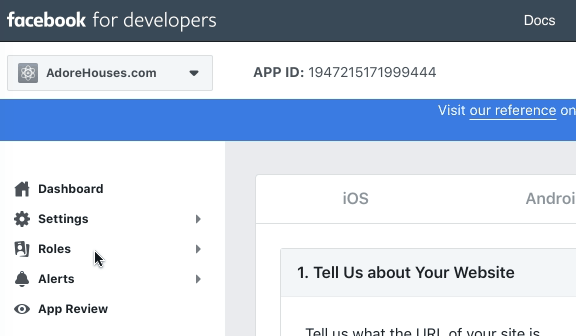 Step 8. Privacy Policy: Facebook needs a privacy policy to continue. Your Brivity website privacy policy can be found by just adding /privacy_policy to the end of your site URL.
Example: http://adorehouses.com/privacy_policy (It's also found on the bottom-right of your Brivity website.)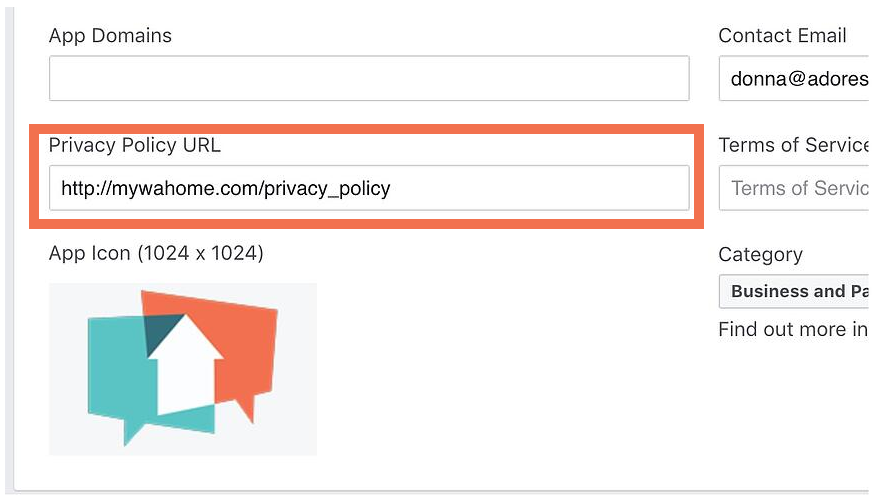 Step 9: Then add an icon (photo) for your app.
**If you don't have an image, feel free to use the generic Brivity house logo. Download here: https://support.brivity.com/wp-content/uploads/2020/09/Brivity-house-icon.png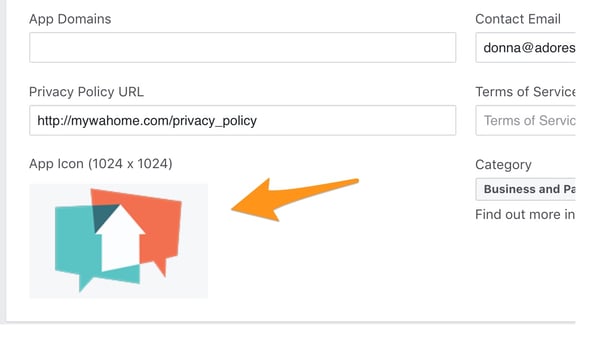 Step 10: Save Changes and turn "ON" your app to make it live. Choose the best Category for your website. We recommend "Business and Pages".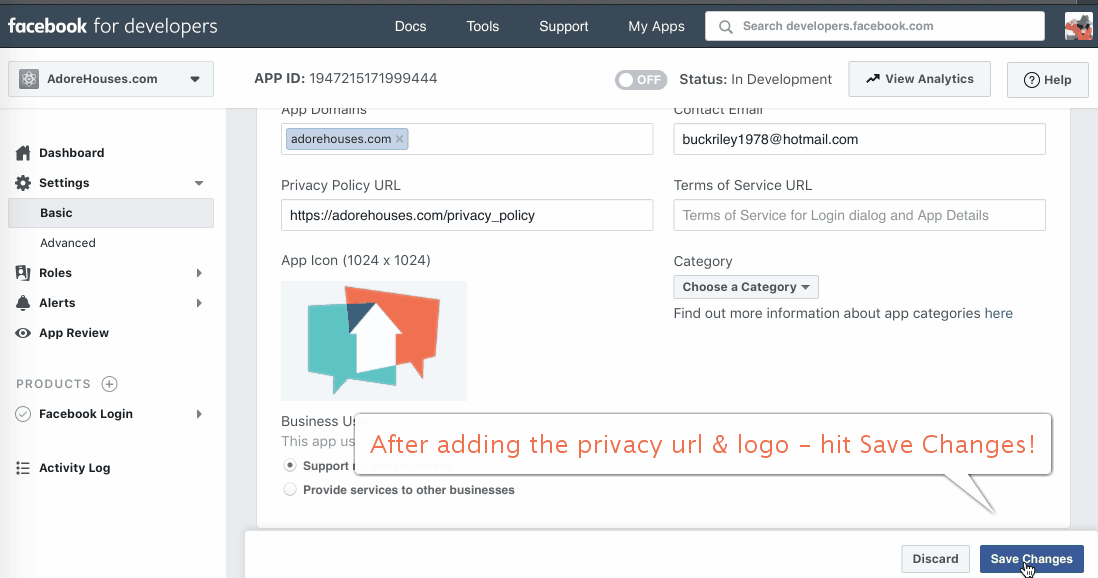 Step 11: Copy your ID which is in the top-left.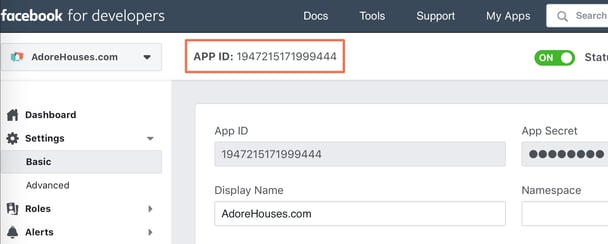 Step 12: Login to your Brivity Website Builder. Only the Owner Brivity account has an access.
Click Edit Site to open the website builder.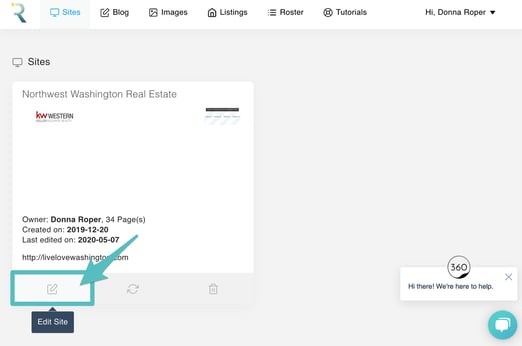 Step 13: Click on Integrations on the left, then the gear on Facebook to add your Facebook App ID.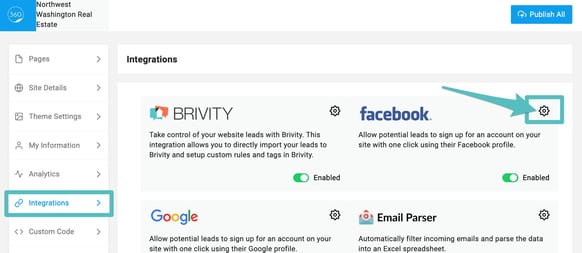 Step 14: Add your App ID, and Save. Be sure the integration is marked as Enabled when you are done.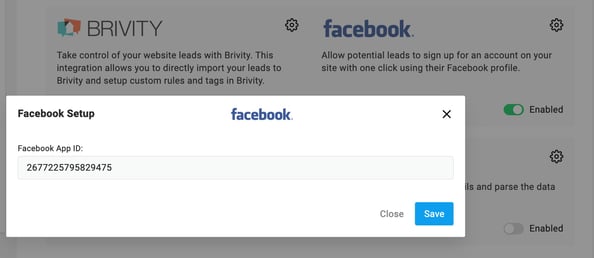 Step 15: When you're done, Save and Publish.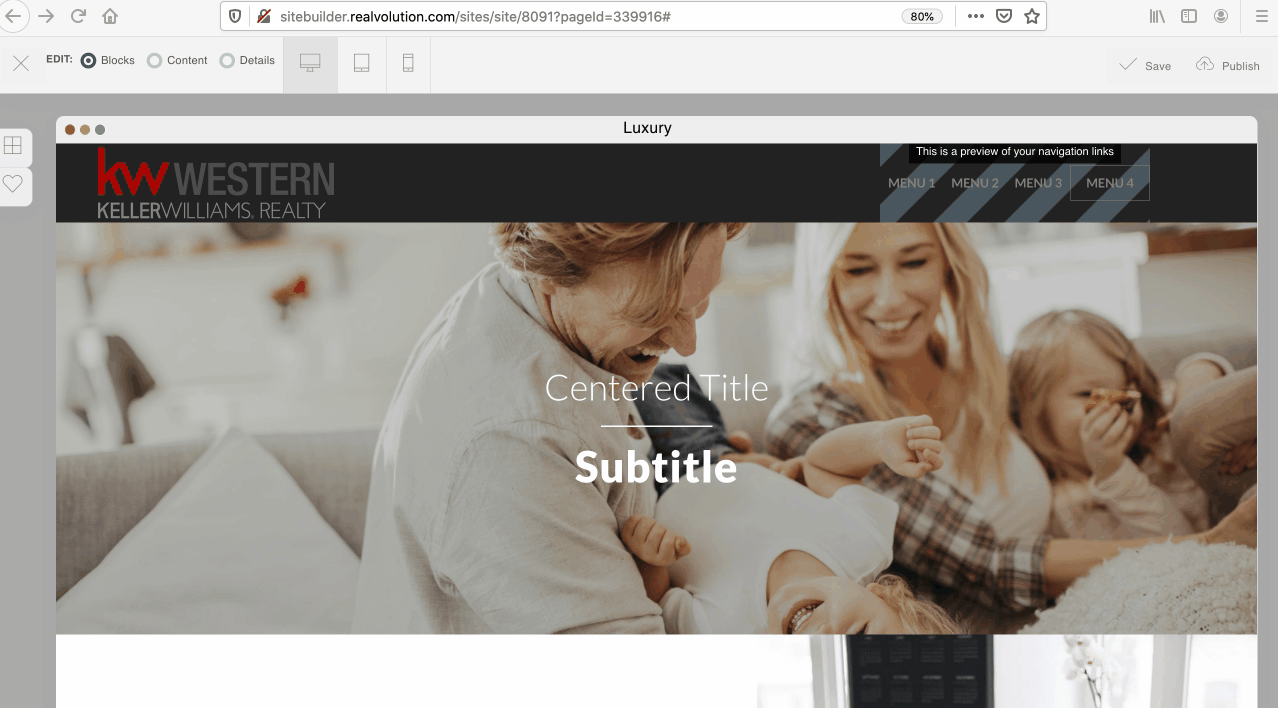 Fyi- Facebook offers tons of free courses on all things related to tracking, advertising, targeting and retargeting. Here's where you can access Facebook's free courses.