Make it easy to allow leads to register in one click with Social Registration! To get started, log into your Facebook account.

Follow the Facebook registration steps mirrored below.
If you get lost in Facebook steps, come back here for guidance. Create a New App ID (name it your business or something similar for you to recognize).
Step 1: Go to developers.facebook.com and in the upper right, click Get Started (sometimes this says Log In).
You should see a "Welcome to Facebook for Developers" screen. Follow through the prompts. It will ask questions to verify who you are.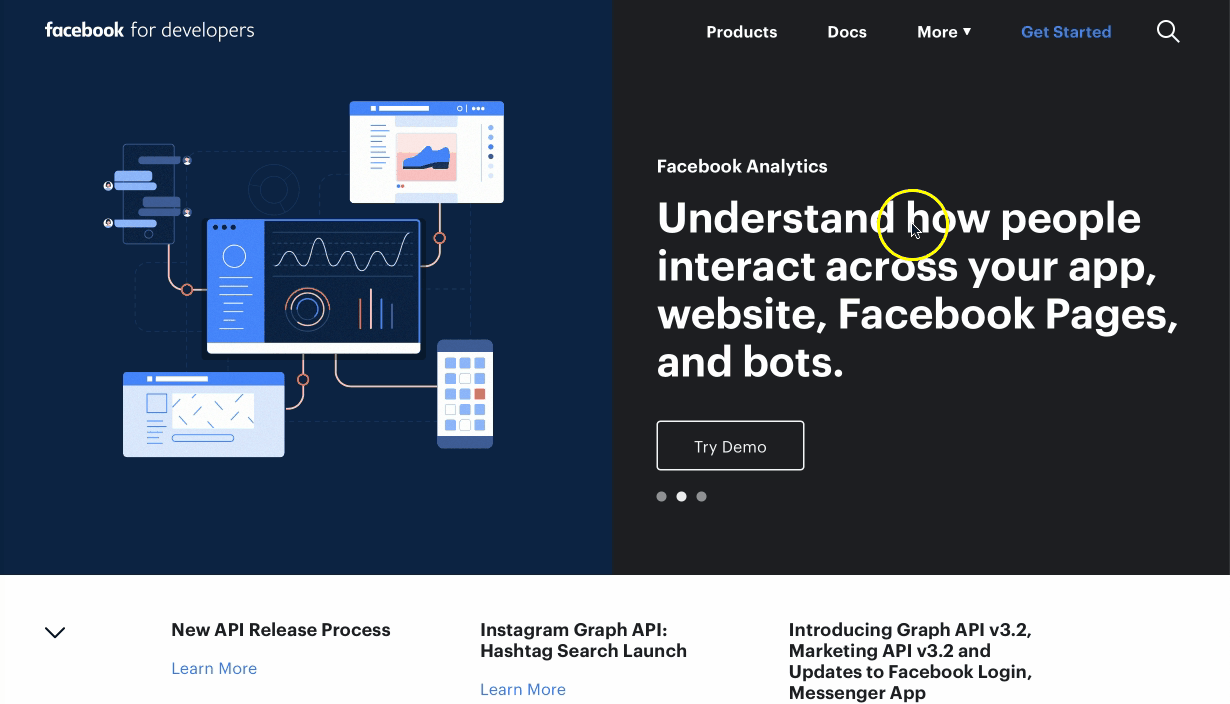 Step 2: Facebook will ask, "What do you need your app to do?"
Select "Manage Business Integrations"

Step 3: A pop-up form will show. Fill out the form that comes up. Here's some guidance: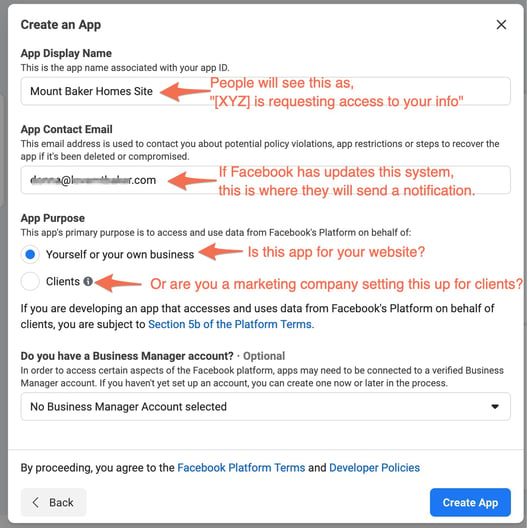 STEP 4: In this step, Select "Facebook Login" (but also note all the other cool tools Facebook has!

Step 5: Choose a Platform. Choose "www".

Step 6: Fill out #1 to input your Site URL (be sure to use the https:// in the URL), hit SAVE and CONTINUE. Then do not fill out steps 2-4, as we have done it for you already. Skip to the next step.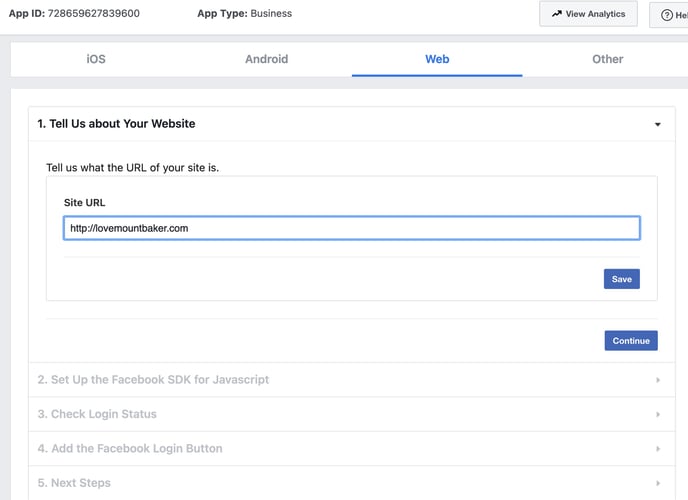 STEP 7: Navigate to the left menu items. Choose Settings, then Basic.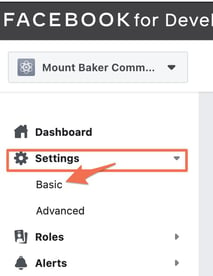 Step 8: This is where Facebook asks some of the same questions again and a few new ones. It will look like the below, and you must fill out all the fields similarly to the way we filled out the below example. See notes below on each field.
*SAVE at the bottom right when you're done.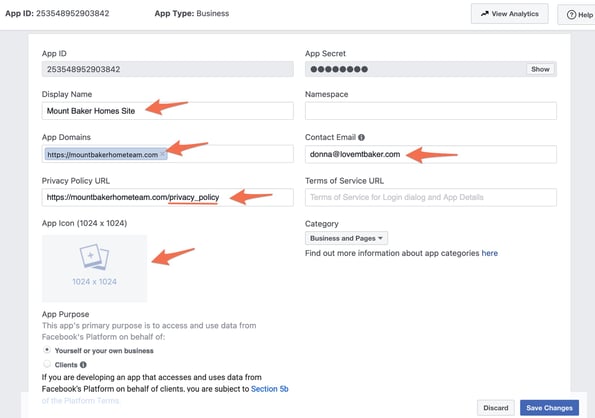 *Display Name: This Display Name will appear when someone clicks to sign up.
*Privacy Policy: Facebook needs a privacy policy to continue. Your Brivity website privacy policy can be found by just adding /privacy_policy to the end of your site URL.
Example: http://adorehouses.com/privacy_policy (It's also found on the bottom-right of your Brivity website.
*Data Deletion URL (If you see this field, it is required): Use the /connect or /contact page from your Brivity website. (this field is not in all accounts)
Example: https://www.adorewa.com/connect
*Category: Choose Business and Pages
*App icon (or photo) for your app. It appears with the Display Name when someone clicks to sign up. Whatever you load here has to be a perfectly square image. Sorry!
**If you don't have an image, feel free to use the generic Brivity house logo. Download here: https://support.brivity.com/wp-content/uploads/2020/09/Brivity-house-icon.png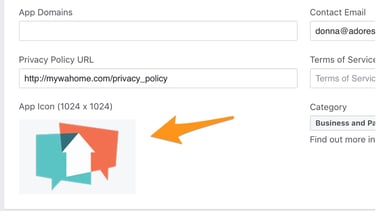 Once you've completed the app info form, Save Changes on the bottom.
Step 9: Copy the AP ID at the top left. Save this for STEP 13.

Step 10: Navigate to the left menu items. Choose App Review then Requests, then "Request Permissions or Features."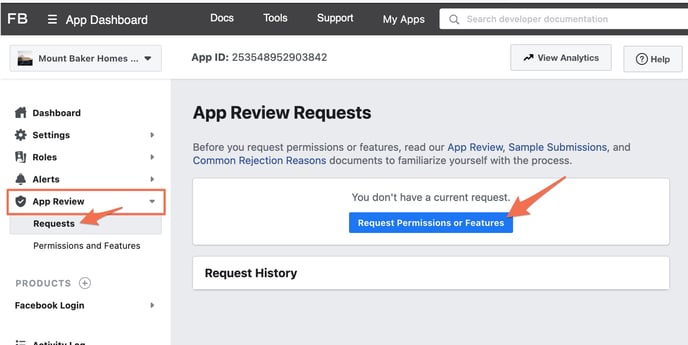 Step 11: Login to your Brivity Website Builder. Only the Owner Brivity account has an access.
Click Edit Site to open the website builder.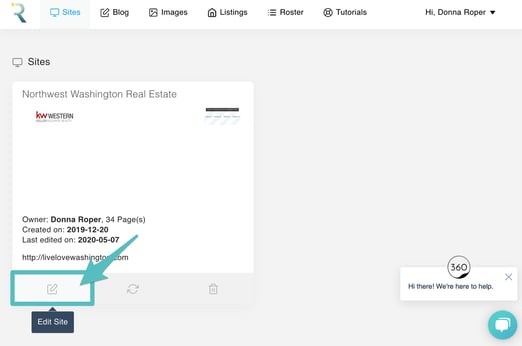 Step 12: Click on Integrations on the left, then the gear on Facebook to add your Facebook App ID.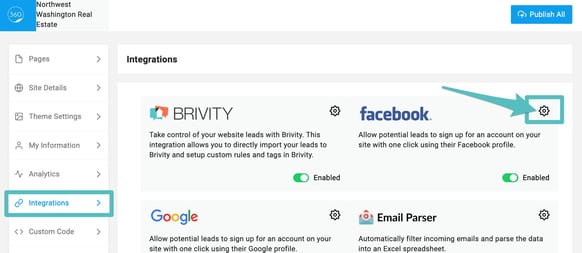 Step 13: Add your App ID from step 9, and Save. Be sure the integration is marked as Enabled when you are done.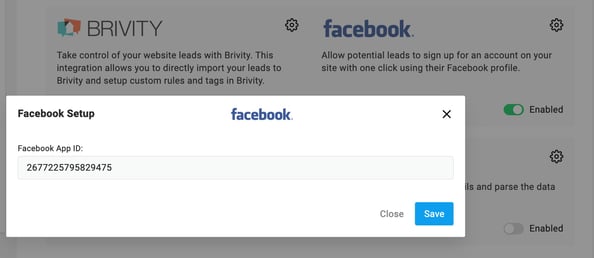 Step 14: When you're done, Save and Publish your website.
Fyi- Facebook offers tons of free courses on all things related to tracking, advertising, targeting and retargeting. Here's where you can access Facebook's free courses.