Create your new account, personalize, and include as much information as possible to make it easier for clients, leads, and other agents to find your information.
Step 1: Click your name in the top-right corner and select Profile.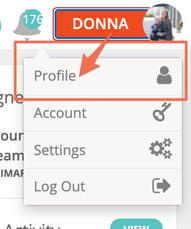 Step 2: Click Edit in the upper left.

Step 3: Edit Your Profile Details and then Save
Some fields will update your website and Brivity marketing, but most of the fields in your contact record are not publicly visible. The below fields are the only publicly visible fields.
For the account associated with the Account Owner, these fields will update on the website for the "Presented By" next to each listing. If someone is logged into the website as a consumer, they will see the Primary Agent assigned to that contact in the CRM in the "Presented By" next to each listing. See who is your account owner here.
*If your team's agent profiles have been enhanced in the website builder, all fields will disconnect from the website and will only be controlled by the builder.
So who sees the other fields?
Only other members of your team who are users of your Brivity account will be able to view your entire contact record.