Automatically receive leads from third-party lead sources like Realtor.com to follow up, apply listing alerts, and market reports.
Brivity allows you to send third-party lead sources to Brivity. This is done by Email Parsing, API keys, and Zapier. Use email parsing to automatically receive leads from third-party lead sources like Realtor.com and others that support
Meta Data
in their emails.
Step 1: First, you'll need your Brivity Lead Capture Email. Click on your name in the upper right of Brivity and go to Account, then click on Lead Parsing.
*All of these emails will capture leads from lead notification emails. Copy the email for the user you want to send leads to or use the account email for lead distribution.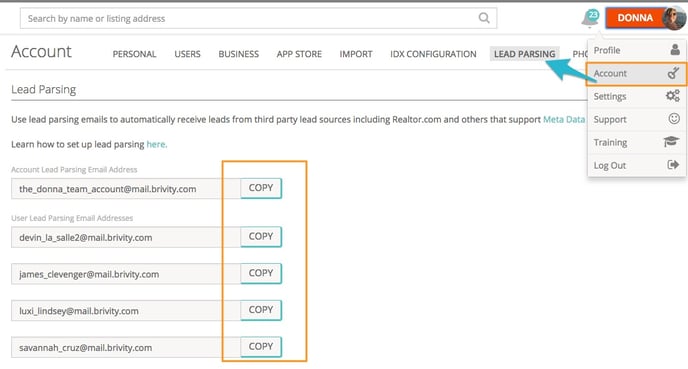 Step 2:
Login to Realtor.com
and select
Settings
, this will take you to the
General Settings
tab. Click
Lead Settings
.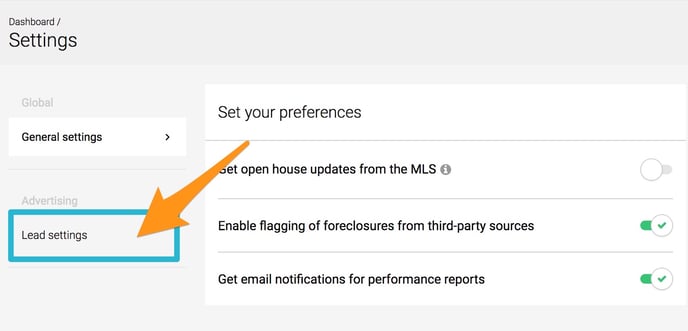 Step 3: Click Change for each of the lead products available.
Note: Realtor.com offers several different lead products, so depending on your account, you may have 3-5 types of leads to direct to Brivity.
Step 4: Set up a new notification by selecting Lead Parsing from the drop-down, then paste your unique Brivity email address, Select HTML emails for the Email Format, and Click Save.
Test it out
The test lead sent from Realtor.com will come from the email address testlead@test.com. You can locate this lead in your CRM and verify in the timeline that the set up was successful.
Once you have changed your Realtor.com email address to your unique Brivity email address, you can test it out by going to Realtor.com, finding your profile and submitting an inquiry. You should see your new realtor.com lead in your Brivity CRM.
If leads don't populate to your Brivity CRM correctly, you should see
"New Lead Information Received"
on your own
Brivity Profile Timeline
with the correct lead information that you can copy and use to manually create a lead.