Importing contacts to your Brivity account will allow you to manage all of your contacts in one place to track all communications, automate follow up, and send Listing Alerts and Market Reports.
* Before you get started, please open your CSV and remove any unnecessary columns in your file. This will prevent unnecessary fields being added to contact records. Then follow the steps below.
Step 1: Go to Account and then Import

Step 2: Ready your file with the Sample CSV or click Start New Import
Download the Brivity Template CSV file to manually fill in columns (optional), or select Start New Import with any CSV. T
he Sample CSV shows all Brivity Statuses and Types you may want to use to segment your contacts in your import.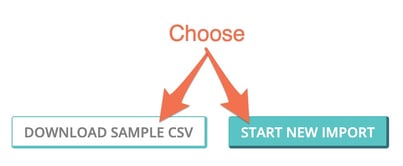 Step 3: Notice the "How It Works" flow-chart:

Please clean up any import files before importing. The data Brivity shows is only as good as the data you import! We suggest removing any empty/ irrelevant columns. Don't worry too much about your column names- once you've uploaded your file, you will be able to do field matching to make sure the right info goes to the right places. Any columns in your file that don't match to a Brivity field will create custom fields in contact records.
Step 4: Upload your file Brivity, then select Next
When importing, make sure your Active Leads show up in your Leads Index vs other contacts, which will only show in All People. Segmenting this way will help your agents find the leads they should be working. Be sure your import is a CSV (.csv) file!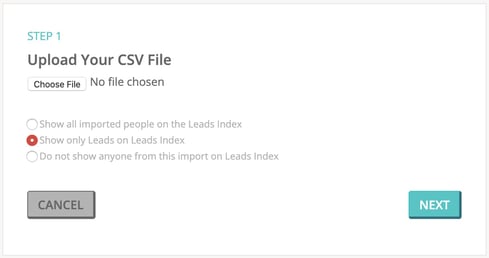 Step 5: Match your file fields to Brivity's fields.
Now you can match Brivity fields to the fields in your file. If there are any Unmatched Fields, Brivity will mark them with a hazard sign for you to select a Brivity field.
If you don't match the field, the field will become a custom field in every imported contact record. Alternatively, you can import multiple columns to the Description field if you don't want them to all be custom fields.
* Unmatched fields will be stored as custom fields in a contact detail page.
* You can import multiple Tag columns
* Notes should be imported to the Description Field. Multiple columns can import to the Description Field.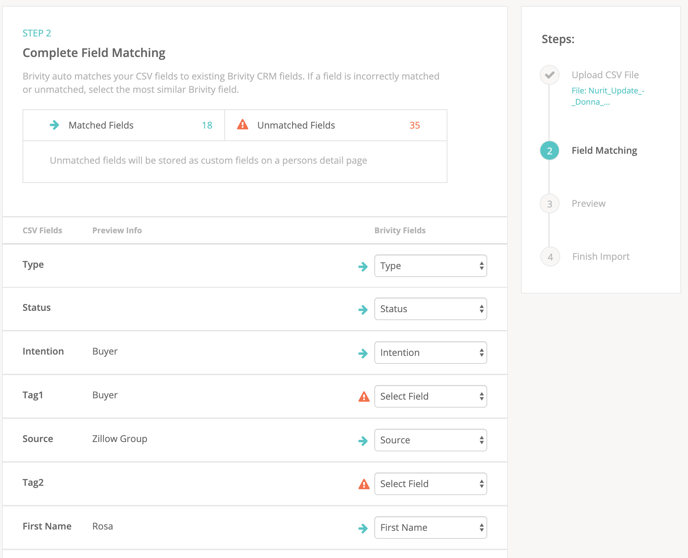 Step 6: Preview prior to the import.
On the next page you will get a chance to review how all the fields are set to import one last time.
If everything is correct, select Next. Your import will automatically begin!
Step 7: You can leave the import page while the import takes time to run.
A status bar will appear to display the import's status.
When your import is complete, you will be notified via email and in the status bar.
If any contacts are unable to upload, you will receive an error file via email that contains the reasons the contact(s) import was not successful.