Did you know you could mass-apply Auto Plans or just to send a text or a series of text messages to a list of contacts?
Whether you're sending a single text message, a series of texts, or want to add a full Auto Plan to several contacts at once, first you'll need to develop your Auto Plan Template. Second, you'll need to set a trigger based on a tag to kick off your plan.
*Auto Plans can only be created by Admin Access Accounts.
WARNINGS: Reasons NOT to mass-apply Auto Plans
1. Tasks: If you mass-apply a plan with tasks to hundreds of people, you'll get hundreds of tasks on the same day.
2. Texts: ANTI-SPAM laws are tight and are tightening and have high fines. Be careful to know the laws and the risks you are taking in making this decision.
3. Texts: If you mass-text, phone providers are likely to blacklist your Brivity number or mark it as SPAM. Keep in mind, many phone providers are now also allowing phone users to auto-block phone numbers marked as SPAM.
4. Texts: If you mass-text your database, the recipients are likely to block your number by simply replying STOP. If they do, you'll never be able to text them from Brivity again.
5. Emails: if you mass apply emails to contacts, they have a high likelihood of unsubscribing, and you'll never be able to email them out of Brivity.
6. Emails: If you are going to mass apply a plan, because of the reasons above, the best kind of plan to mass-apply is a plan with only emails. In that case, you may as well use our mass email feature. Keep in mind warning #5 above.
7. If you change your mind and no longer want an auto plan to run, there is no tool to mass-pause or mass-remove the auto plans. You will have to manually remove or stop them all.
First - Make your Plan
Step 1: Find Auto Plans in your Settings (or click here). Click Add Plan on the right.

Step 2: Name the Plan and click Next.

Step 3: Start building out the plan steps by adding a Text.

Step 4: Here are the options if you choose to add a Text.
*Notice below the text delivers in relation to a custom date.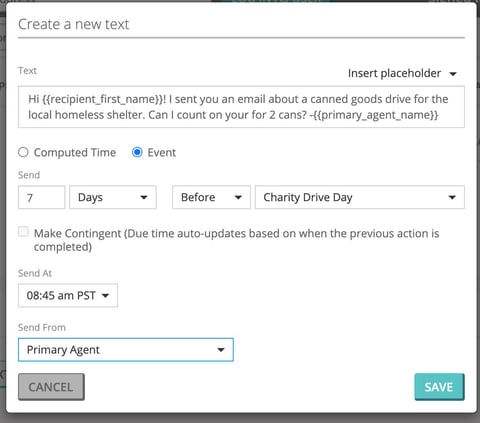 After your text(s) are set up in plan, you'll need to set a trigger to make it fire on your list of contacts. We'll b using a Tag to accomplish this. Do NOT add the tag to the contacts yet.
Step 5: In your Settings area click on Tags (or click here).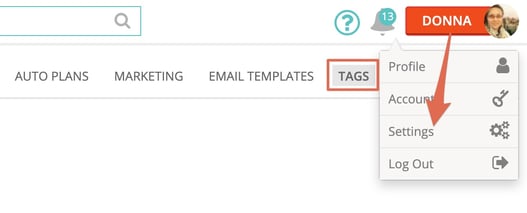 Step 6: Create a Tag for the plan to fire. Click the [+] sign to add your tag.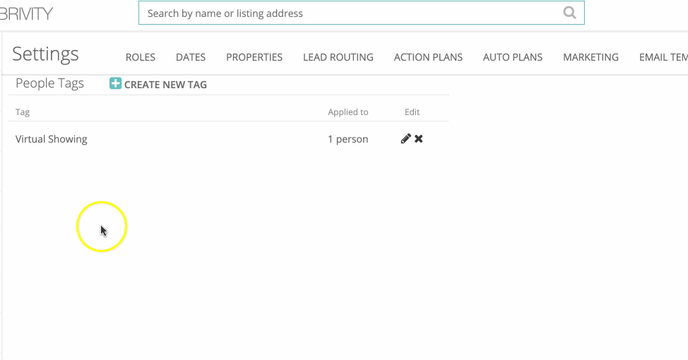 Step 7: Go back to the Auto Plans area of Settings (or click here). Click Add Trigger.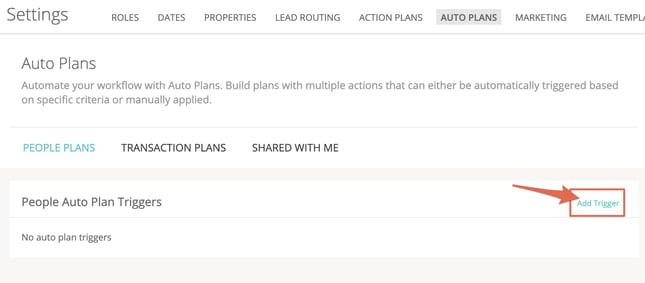 Step 8: Choose the Auto Plan, then choose the Settings that will trigger the plan. In this case, the Trigger is the Tag of "Charity Drive."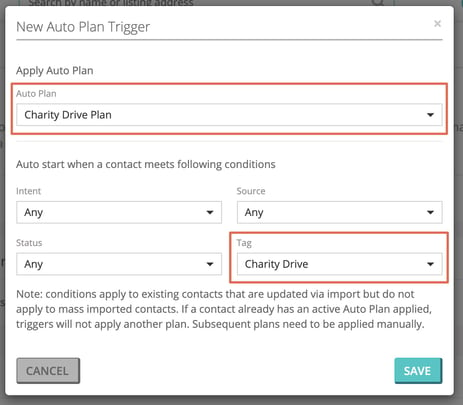 Now your Text Auto Plan is ready and the Trigger is set! Simply adding the tag to any contact record will cause the plan to apply to your contacts.
Next you may want to learn about Using Custom Tags, or Mass Applying Tags, or how to Filter Contacts by a Tag.
*Note: Auto Plans will not trigger to contacts that currently have an auto plan. You can still manually apply them.