If you run leads in Command, you can send them over to Brivity for automated follow up!
There's a few things that will differ from account to account on how to adjust settings based on your team's needs. We'll try to simplify those for you here.
"I want my Facebook leads to come to me." OR "I want someone's leads to go to them."
Here's the format settings in PieSync you'll need: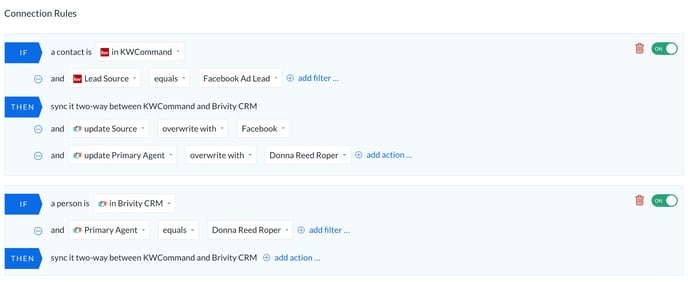 ---
"I want my Facebook leads to distribute to agents on my team in Brivity."
In this case, don't include any rules for Primary agent in PieSync, and instead set up Lead Routing Rules based on Source in Brivity.
Use these PieSync settings:

---
Running multiple Facebook Campaigns in KW Command?
Currently you cannot run different campaigns in KW Command to different people in Brivity. KW Command has not yet added any way to differentiate one campaign from another in their PieSync Settings, so the rules you set in PieSync will only route in one direction for every campaign run out of Command.
**Unless you use the option in Command under Facebook Ad - Channel Options to Use a Site or Landing Page
By using a site or landing page, you can use your Brivity /share feature and add a tag to distribute leads to different agents on your team for every campaign. Here's more information on how to use Tags with /share to distribute leads and follow up automatically!