There are many ways to structure your teams duties and priorities. This is one way to structure an Inside Sales Assistant or Virtual Assistant for scrubbing new leads.
Using an assistant to scrub leads is a great use leverage to grow your business! Here's some ideas of how other teams are leveraging this role. Brivity also offers Virtual Assistants for hire that are trained on all things Brivity to fill in this role for your team.
Consult with our team @ BrivityVA.com to find out more!
Tip 1- Choose an email address for the new assistant
Depending on where you hire an assistant, they may have an email address. Be careful to add their current email address as their Brivity CRM email. Virtual assistant companies my have shared a Cyberbacker email or BrivityVA.com email, but be careful of using those in your Brivity account.
As we move through the next steps, you'll see an assistant will be following up by email with their Brivity CRM, and we would suggest you give the new assistant an email that reflects your brand *and that you control* should you need to take back control of that account or hire a different ISA for that position. You don't want to lose all the communication that has transpired between your old assistant and your database.
Best practices of setting up an email:
The email should be a Google Based email so it can connect to Brivity to show all communications and improve deliverability.
We'd suggest you create the email with GSuite Business instead of a free gmail email (though both will work!). A professional GSuite email is a great way to show your business is legit, and it has improved deliverability. Also, a free gmail account only allows 300 emails to be sent per day vs Gsuite allows 500 emails to be sent per day.
Tip 2- Set CRM access to either Agent or Admin Access.
When you add the assistant to your Brivity account, you will need to choose what type of access they will have.
Option 1: Many teams will give this role an Agent Access so they will only see their own leads and when they reassign leads to agents, they will no longer see those contacts.
Option 2. Some teams use Admin Access for this role, but it is not suggested. Admin access allows the assistant to see all contacts and export all contacts.
Tip 3- Decide which leads the assistant will manage.
First, decide what contacts this role to scrub.
Option 1: Most teams give the assistant their own Brivity account just for scrubbing new leads moving forward.
Option 2: Some teams assign the assistant to work a "pond account" filled with old or neglected leads, and it could also take in new leads moving forward.
Tip 4- Set Lead Routing.
If this role is taking on new leads as they arrive, set your lead routing to automate leads to the new person/role. You can automate distribution using Brivity based on the new assistant's hours of work. What ever that schedule is- for example, 9am-5pm. Then after those hours, the leads will follow other rules set below. Drag/drop rules to prioritize them.
See how to drag and drop rules in order of priority below. Leads will distribute based on hours first (in the case below) and off those hours, they will follow the team Round Robin.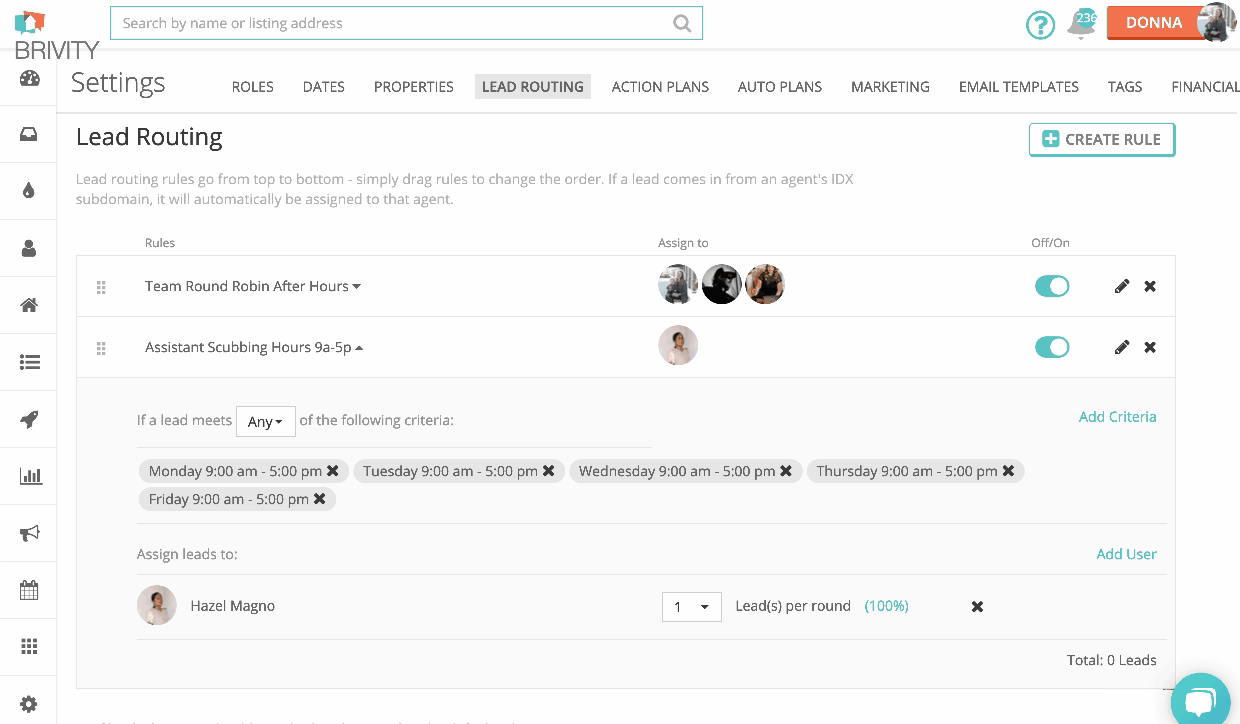 Tip 5- Have a script ready to convert leads.
If you don't have scripts for your new scrubbing assistant, we'd suggest modifying the "Ben Kinney Ten Days of Pain" in your account. Edit scripts here in Brivity's Auto Plans if you have an Admin Access account.
There are also some extra long-term Auto Plans here you can add to your account.
*Be mindful of phrasing that might imply the scripts/messaging is coming from an unlicensed or licensed assistant.
Tip 6- Have a consistent contact management plan.
Everyone on your team needs to be on the same page with how statuses, tags, intents, and Leads vs People work in your account. You don't have to use our statuses and other segmenting tools, but you should define what they all mean to your team.
We've broken out this printable Contact Management Cheatsheet with Status Definitions to help you understand what happens with different changes in the CRM.
Brivity has awesome value-added tools to help nurture contacts.
Buyers should be set on a Listing Alert (daily) and a Market Report (set to once weekly).
Sellers should be set on a Market Report (set to once weekly).
Tip 8- Make the decision of when leads/contacts will transfer to agents.
Teams using Brivity have different plans for when this transfer from the assistant to the agents, but it's important to set the standard with your team and be consistent.
Ideas of when a transfer might occur:
When they came in on a teammates listing
Some teams have leads for each teammate's listing go direct to the listing agent. If your team does this, you will want to make that a part of your process. Consider if you'll have the assistant "scrub" these leads first once before transfer.
Be sure the assistant at least sets a Listing Alert and/or Market Report before transfer.
When the lead is HOT.
Many assistants will transfer leads once the lead is determined to be in a status of HOT. By Brivity's definitions, this implies there was contact made with the lead, and they have a goal to move (buy/sell/rent) in the next 1-3 months.
When an appointment is set.
Some assistants will transfer after the assistant has booked an appointment with an agent. Perhaps even consider handing reassigning the lead on the day the Assistant *confirms* the first appointment (have the assistant confirm the day before the appointment and reassign).
Tip 9- Have a daily "Plan of Attack."
The 10 things to Succeed in Brivity work just as well for the ISA role as they do for any other! Perhaps skip the step #9 to "Check in on Past Clients" since they won't likely be managing those contacts. Make this your new assistant's daily plan of attack!
Tip 10- Treat them well!
Distance and technology can make people feel less than human, and our connections can feel cold as a result. We suggest it's good to learn about your new teammate and make a point to make them and their interests a priority.
Get to know them as people, not just a distant worker.
Below are some questions you might want to ask them to help you to create a warm connection to your company and team.
Tell me about yourself.
When is your birthday?
Do you have kids? What are their names? What are their birthdays?
Do you have pets?
What do you do outside of work?
Do you have a hobby or hobbies?
Do you play an instrument?
Part of your business might include sending them a birthday gift or card for their littles on their birthdays. Connect with them as humans, and we promise great results and awesome working relationships!
Consider their holidays, vacation time, or time off.
Holidays: If your assistant lives in a different country, you may want to add a "Philippines Holidays" calendar to overlay on your Google Calendar.
Vacation time: Everyone needs a break for their mental health and studies show that your staff vacation time actually improves your businesses productivity.
Unforeseen issues: If your teammate is in another country, pay attention to the weather, natural catastrophes, and when other areas of the world.
Health Time Off and Health Insurance
If you're hiring a VA in a different country, you don't have to provide sick days or health insurance, but we'd highly recommend them.
Health Time Off: Sick days happen for both your staff and for their family. Being aware of their circumstances and family needs can help you to understand their time off for health needs and help you plan for your business.
Health Insurance: Unfortunately, the majority of Virtual Assistants that are hired outside the US and Canada are not offered insurance. Even the healthiest people need health insurance.
*Brivity is proud to be a company that offers 100% Healthcare Coverage for our Virtual Assistants and their dependents, a set PTO (Paid Time Off) structure, set holidays (that include holidays for the Philippines & the United States or Canada), Retirement Benefits, and annual & 6 month bonuses for every hire.
Consult with our team @ BrivityVA.com to find an assistant to leverage and grow your team!