Brivity Valuations: Common Questions
How Do I Use My Valuation Site?
Log in to your Brivity Valuations account through this link. Your account is your gateway to view leads, update the design and change settings. The menu allows you to access different sections in your account.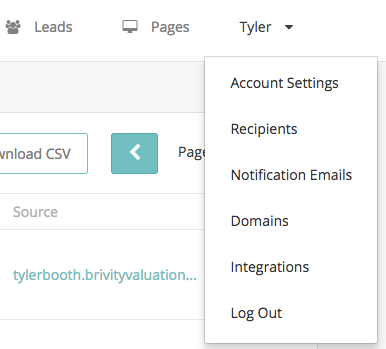 See all the leads that come in through all your domains on the Leads page.
Use the Pages page to update content and design of your Valuation Site(s). Click here for more information on your site's design.

Inside the Pages tab, click Preview to check changes on your site.

Access your account settings under Settings:

Your Account Settings is the first on the list. This is where you can customize your account.
Add lead recipients under Recipients.
Edit emails sent to recipients and leads under Notification Emails. Learn more about notification emails here.
Add additional domains under Domains.
Use Integrations to enable or disable integrations with other services.
And of course, your Log Out.