Interactions are easier than ever to log in Brivity. You can Send an Email, log a Call, Message via Texting (setup up only for Brivity Platform Customers) & Log an Appointment. This can be done for any person in the database from one of the indexes of people (Leads index, Sphere index, Clients index, etc.), from their individual Person Page, or from a Transaction.

Begin by clicking on the Interact Icons or down in the Interactions tab.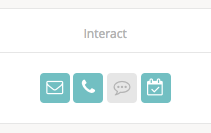 Select the type of Interaction (Email, Phone Call, or Meeting) and then click Next.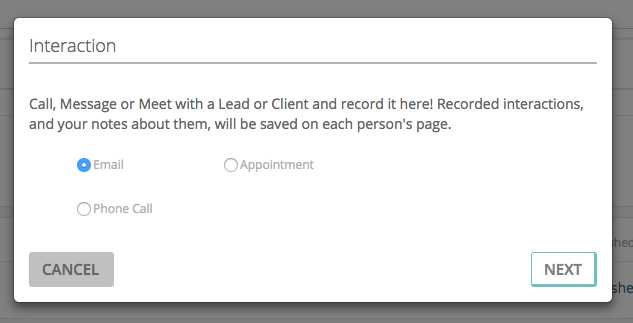 To Send & log and Email:
You can see the email address you're sending to at the top of the modal. The email will not look like it's coming from Brivity, but will appear from the same email you use to log in to Brivity. Fill out the Subject and body of the Email, style it using the editor, and insert placeholders (or Select an email template you've created from the dropdown). If you are using placeholders, make sure they are filled out on that person's page and in your account before sending.

If you select Send me a Copy, you will be sent an exact copy of what the recipient is receiving. If you send the email from a Listing or Pending page, you can Include a link to the timeline. Click Save & Send to send the email. Brivity will automatically add a note to that person's page with the content of the email.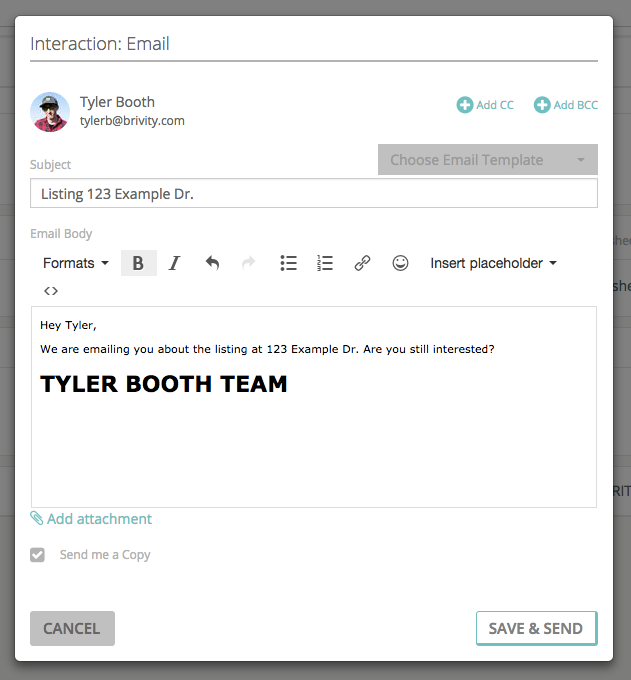 To Log a Phone Call:
Select Phone Call before clicking Next in the interaction modal. You'll see the person's name and phone number at the top of the modal. If you open this modal before calling someone, you'll be able to keep accurate notes of your discussion!

We automatically pull today's date and the approximate time, but you can adjust them if you're back-dating a call. You'll see that the visibility is set to Hidden—that's because people who are not users on the account can never see any notes you add to their Person. Click Save to save a record of your call and to close the modal.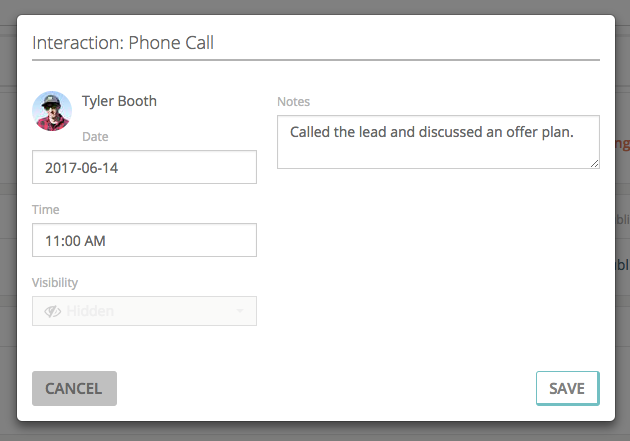 To Log an Appointment:
Select Meeting before clicking Next in the interaction modal. We automatically pull today's date and time, but you can adjust them. The Visibility is always set to Hidden because we don't share notes with the people you make them on. You can add a Location and Notes about what you discussed and what the outcome of your meeting was. Click Save to save the record and close the modal.