Combine data/columns- This is a common problem with Top Producer files
Sometimes you need to merge (combine) one column's data with another column's data. This is a common problem with Top Producer files. Brivity has fields of Street Address, City, State/Province, and Postal code. The Street Address in Top Producer is generally broken into multiple fields of Street number, Street Prefix, Street Name, Street, and a few more. These need to be merged into one field. Don't worry, this one is easy!
Go to the Navigation bar at the top. Select add-ons. Drop to "Get add-ons". Use the search box to find an add-on called "Merge Values", and add it.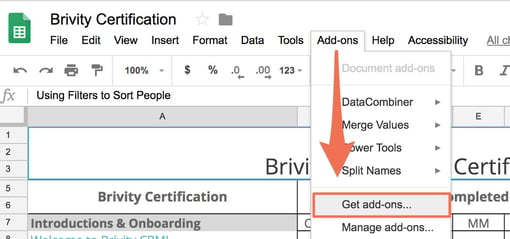 When it's added, you can select the rows you want to merge by highlighting them all. Then go back up to Add-ons, and select Merge values and Start. My Free trial for this add-on has expired. Unfortunately, this add-on is a subscription service with a few days trial. You should be able to get all your files massaged for import within the trial period. If you need to massage any files after this trial period, feel free to reach out to brivity and we can show you a formula that can be used anytime. After the trial, the free version will allow you to use this tool once per day. To bypass the subscription message to get to the merge settings by clicking Return to Add-on at the bottom.
You'll see the below screen. Feel free to use these exact settings.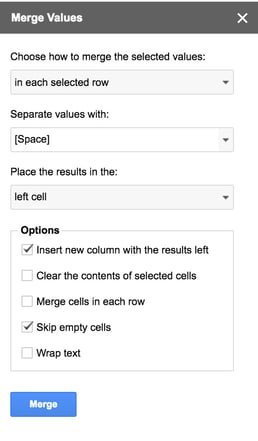 When those settings are done, click Merge at the bottom, and your cells will automatically combine!