Not everyone learns in the same way, so Brivity constantly updates training to match your personal learning style. Below we'll share the various ways to find training in Brivity.
_______________________________
Live and Recorded Training
We offer 2-3 live short-courses training each day (Monday-Friday). You can interact with our company trainer to ask questions and see demonstrations.
Click here to see our schedule of Live Training. There's also a link to previously recorded training sessions in each schedule link.
For access to our complete library of recorded training, click here.
_______________________________
Interactive Training
We've built interactive training into every Brivity account! Just click on the
in the upper-right of your CRM to find interactive training in every account!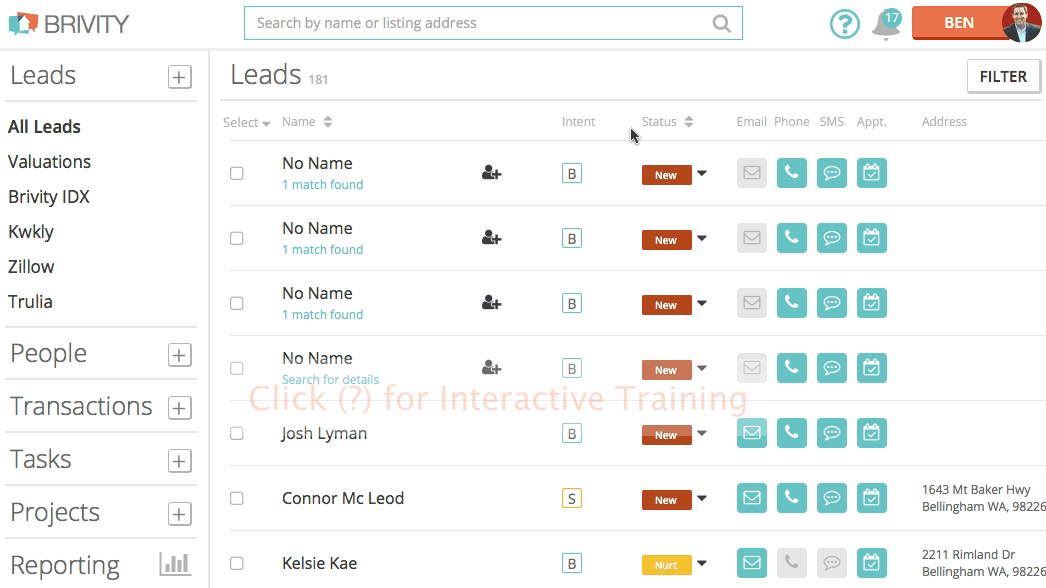 _______________________________
Brivity Training Manual (Self Paced Training)
Brivity's Help Center also doubles as a Training Manual. See videos, step-by-step articles, and access walk-throughs in one place where you can learn at your own pace. These have been listed in their proper order for optimized learning and implementation.

Get started in your CRM here.
Users can find the Brivity Help Center by clicking on their name in the upper-right to click on Help Center.