With Brivity Auto Plan Sharing, you can now share your auto plans with other Brivity accounts!
*Note: When sharing auto plans, any Custom Roles or Custom Dates in the plans will automatically be created for your account.

Step 1: Go to the Settings area of your account and click on Auto Plans.




Step 2: Find the auto plan that you want to share and click on the Share Icon on the right.
This is the SHARE icon ->>

Find it to the right of any Auto Plans in Settings-> Auto Plans.

Step 3: There are two options for sharing.
Sharing Link: You can use the link and share it with whomever you would like. Anyone that has access to that link can get that auto plan added to their account by simply copying and pasting the link into the URL bar while signed in to Brivity.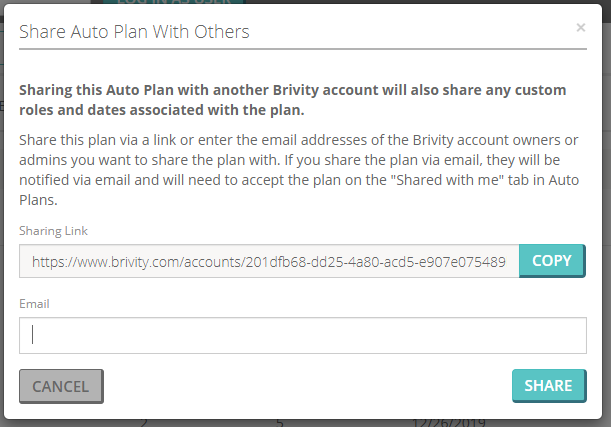 Add an email to the above screenshot: You will need the Brivity Owner Account's login email whom you are trying to share the auto plan with. Make sure the person you are sharing with is an account owner or admin. Enter their email, and hit share!
When you share an auto plan with someone, they will get a notification email alerting them that they have a new plan available.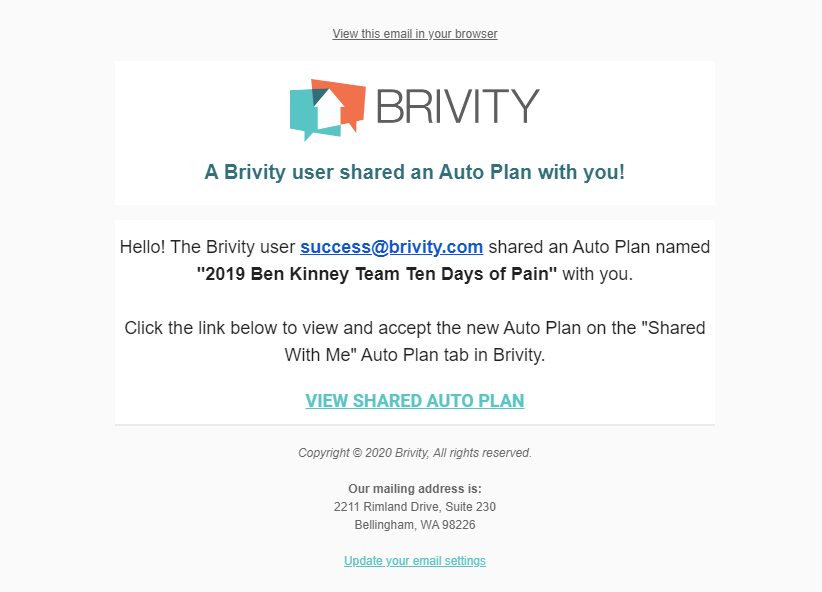 Step 4: Once you have shared an auto plan with another account or someone has shared an auto plan with you, the auto plan needs to be accepted.
Under Auto Plans, click on the tab Shared With Me and click Add to My Plans.


That's easy, right?!