Every market is different, and at Brivity, we understand you need custom dates for events to trigger events for contacts, transactions, and projects. Add custom dates from the Settings section of your account.

WALK ME THROUGH IT
Click on your name in the upper right and drop to Settings. Find Dates in the Crossbar.

Add New Custom Dates to Your Brivity Account
Step 1: To add a new date, click on the button for New Custom Date in the upper right.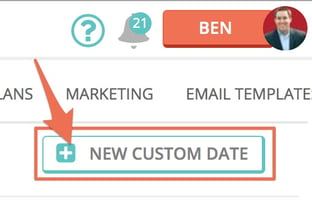 Step 2: Add the name of the date field and what type of date it should be.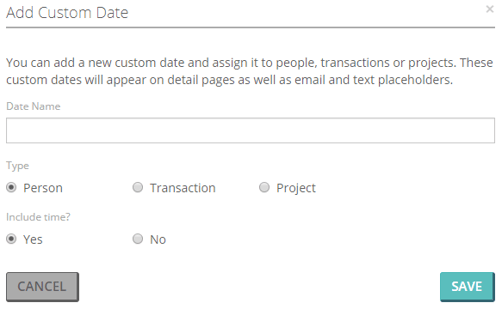 Person Dates
Person Dates will show only in contact records and work for your People Auto Plans, and tasks can be made contingent upon those dates.
They do not show in on the Brivity calendar yet.
More updates are coming to this feature soon.
_________________________
Transaction Dates
Custom Dates now show in each
Transaction
​, on the Brivity calendar, can be used with
Transaction Auto Plans
, and tasks can be set contingent upon them for Action Plans and Auto Plans.
And you can even elect to include a "time" field for use in things like texts or email templates!

When the eye is teal and open, this date is visible to viewers of a transaction.
When the eye is gray and closed, this date is not visible to viewers of a transaction.
_________________________
Project Dates
Project Dates appear in each Project record.