Add buyer agents in Lead Distribution to automate distribution of leads. If your agents list and sell, feel free to add them to both sections.
Step 1: Open the Lead Distribution section of your Kwkly account (or click here).
Step 2: Add an agent's name and cell phone number on the left and Save.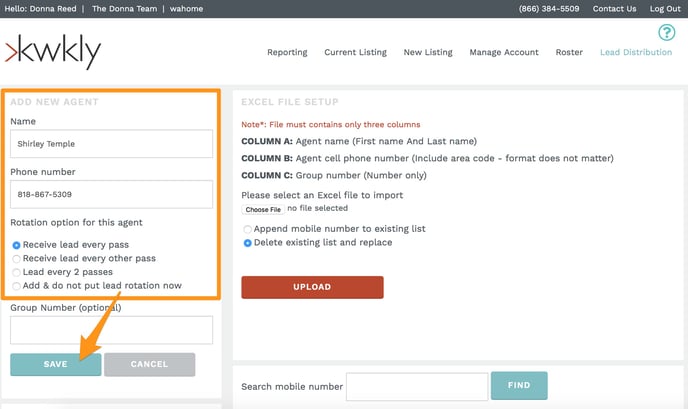 Step 3: Distribution Settings
When you scroll down on the Lead Distribution page, you'll find LEAD INSTRUCTION on the left. There are two options to send leads to buyer agents.
Option 1- Shark Tank
Blast leads out to 'x' agents at once (like a shotgun blast) with 0 seconds delay. This will send a lead alert to several agents at once. The winning agent will have to text Y to claim the lead & receive the lead's phone number.
Lead Instructions would be:
X agents to receive the lead
"0" seconds delay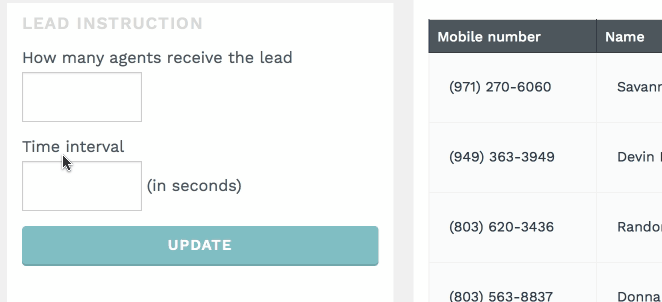 Option 2- Round Robin
Send each lead to one agent at a time with a delay of 'y' seconds. If a lead is not claimed in the allotted time, the lead will alert the next agent after 'y' seconds. If a lead is not claimed in the allotted time, an alert be offered to the next agent.

Lead Instructions would be:

1 agent to receive the lead

Y seconds delay

*Tip: 300 seconds is 5 minutes