It's a good idea to change your password frequently.
Here we'll show you how to change your CRM password here as well as for any other Brivity Platform products.
There are two places in your CRM your change your password. The easiest place is in your User's page. Click here to go there now. Or change it through the Forgot Password link on the sign-in page.
Find your name in the list of users. On the far right click the edit pencil to change the password. If you have Admin access, you also have the ability to update the password for other users this way.

Your Brivity CMA and Market Reports can be accessed via BrivityCMA.com. You can request an email to reset your BrivityCMA.com password here.
The Brivity website builder can be accessed from login.brivityidx.com. To protect your brand, only the Account owner has a login to the Website Builder. If you are the account owner, you can request an email to reset your Website Builder password here.
Your Kwkly admin settings can be accessed via Kwkly.com. There is only one login per team, and that login is your team's main keyword. There is no password the fist time you login. Create a password the first time you enter for the safety of your data!
To change the password, go to Kwkly.com. On the Sign-in page, click the I Forgot link. The system will send a reset link to the account owner's phone.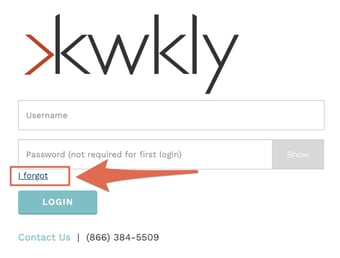 Your Brivity Marketer account can be accessed via BrivityMarketer.com. Click to Log In in the upper right. If you need to reset your password, click the "Don't remember your password?" link on the sign-in page.
If you are a Platform User and don't have a Brivity Marketer account yet, visit brivitymarketer.com/signup.html to request your Brivity Marketer invite!