It's no secret that Brivity releases hundreds of features each year to help you in your business. We compiled all the biggest releases of 2019 in case you missed them!
To see more about any feature below, we linked each to its support article on how to use it! If you need help with implementation, contact our support team via support@brivity.com. Please send any feedback on features to our design team via feedback@brivity.com.
10. Enhance Listings on Your Brivity Website
Enhance Listings on your website with Matterport Tours, branded virtual tours, and add unlimited photos! This feature is great for teams that have a lot of listings and want more exposure.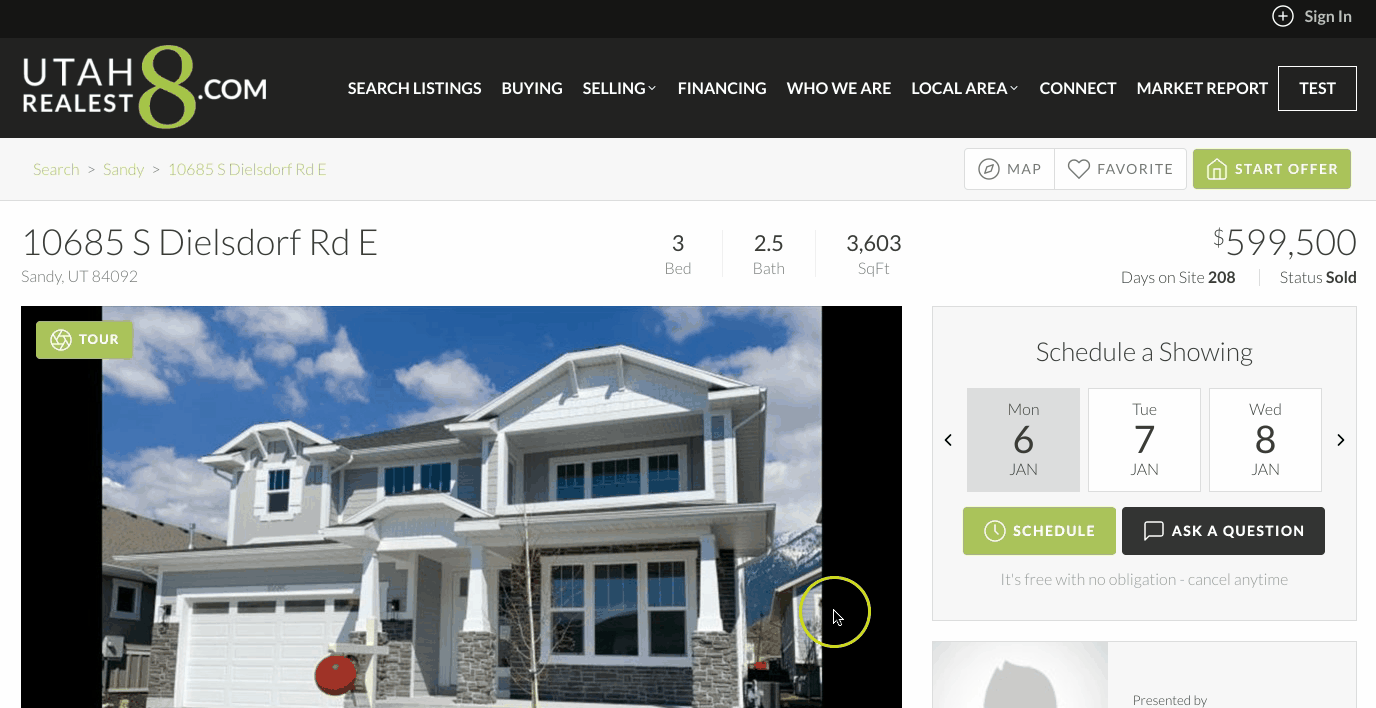 9. Market Your Brivity Phone Number - Inbound Calls Create New Leads
Many users requested this feature, and we listened! Have you ever gotten a call from a new lead while you're out showing homes or writing contacts? Then later try to remember who they were or which number they called in on?
Ensure you never lose a new lead when they call your Brivity phone number! When anyone calls your Brivity number and they are not already contacts in your database then Brivity will add that caller as a new lead for you in the database with the call time tracked in the contact Timeline.
Learn more about how calling and texting work in Brivity.
To Turn OFF this feature, uncheck the box at the bottom of this page.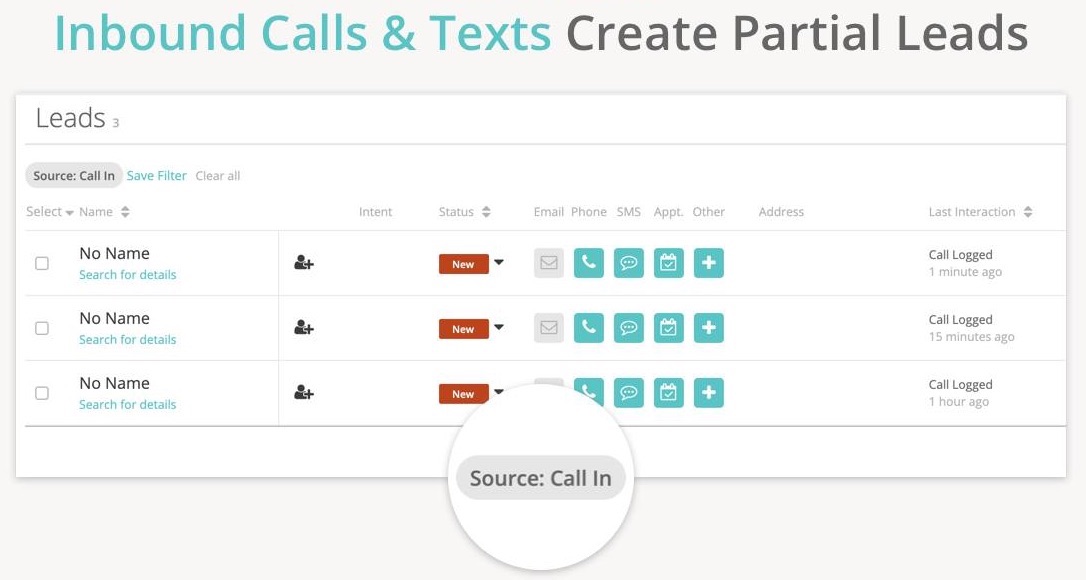 8. The Brivity Message Center
We added one spot in your CRM for Platform users to check and respond to all text messages (and emails - coming soon). This is a great feature for Agents to stay on top of all their messages! In Admin accounts, you can also see all text messages for the team or Filter in the upper-right to see just the incoming messages for yourself or another teammate.
We also pushed this feature to the Brivity GO app for your easy access!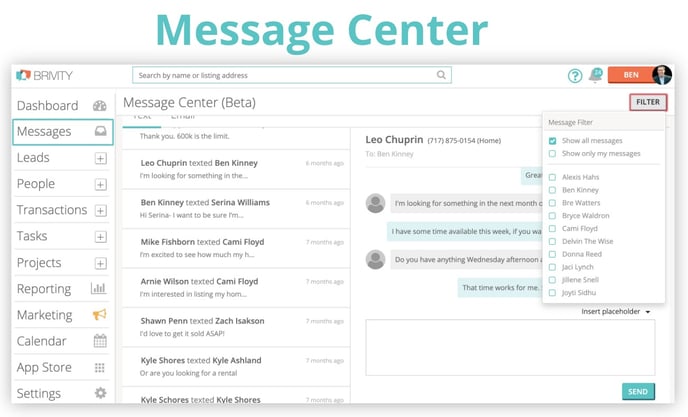 7. Dashboards - Website & Auto Plan Dashboards
Ok, so we cheated. There were so many great features released in 2019 that we combined these to be sure you knew about them!
The Website Dashboard is where you can see every inbound Showing Request, Home Valuation, Start Offer form, and Ask a Question form in one place. Since these are the highest calls to action, these are also your hottest leads! In the future, we plan on adding more website actions here like Property Views and Favorites.
We also pushed this feature to the Brivity GO app for your easy access!
The Auto Plan Dashboard is crucial to keeping your business flowing! Did you know Auto Plans may stop running if you're missing a contact phone number, email address, role in a transaction, or date/time being referenced in the plan? With the Auto Plans Dashboards, Admins can see at-a-glance what Is missing in your entire CRM in order to keep plans flowing and your transactions/follow ups on target!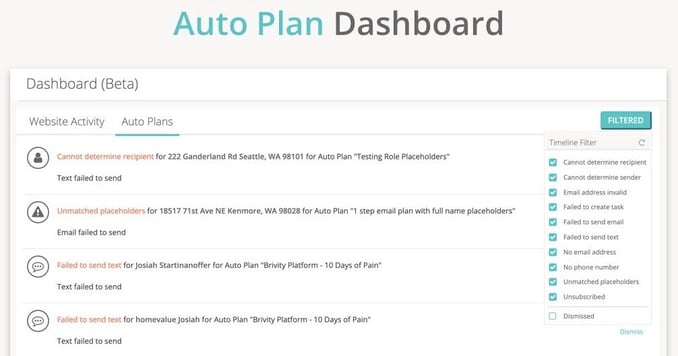 6. Financials
Begin tracking Gross Commission Income (GCI) as well as Net Commission Income (NCI) by adding in custom financials for your Company Fees, any Team Fees you have, and any Agent Fees your team may have to Brivity Financials.
Of course, each transaction can be edited individually for circumstances as well.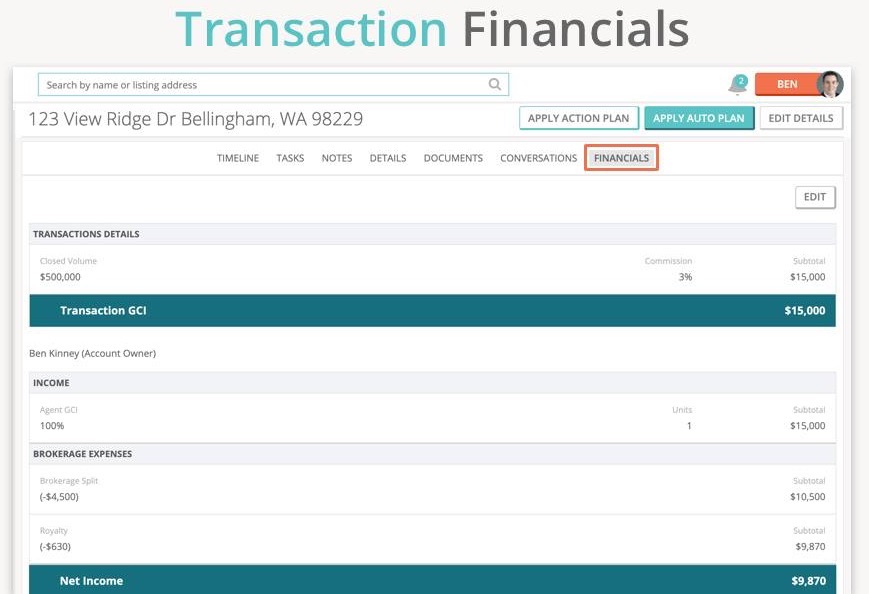 5. Share Auto Plans
When you share an Auto Plan, you have the option to share using a direct link to the plan! When any Brivity Platform account owners or admins click the link, the plan will be added to their "Shared With Me" tab in their Auto Plans section of their account.
Here is a link to the 2019 Ben Kinney Team Ten Days of Pain Auto Plan that you can add to your account now.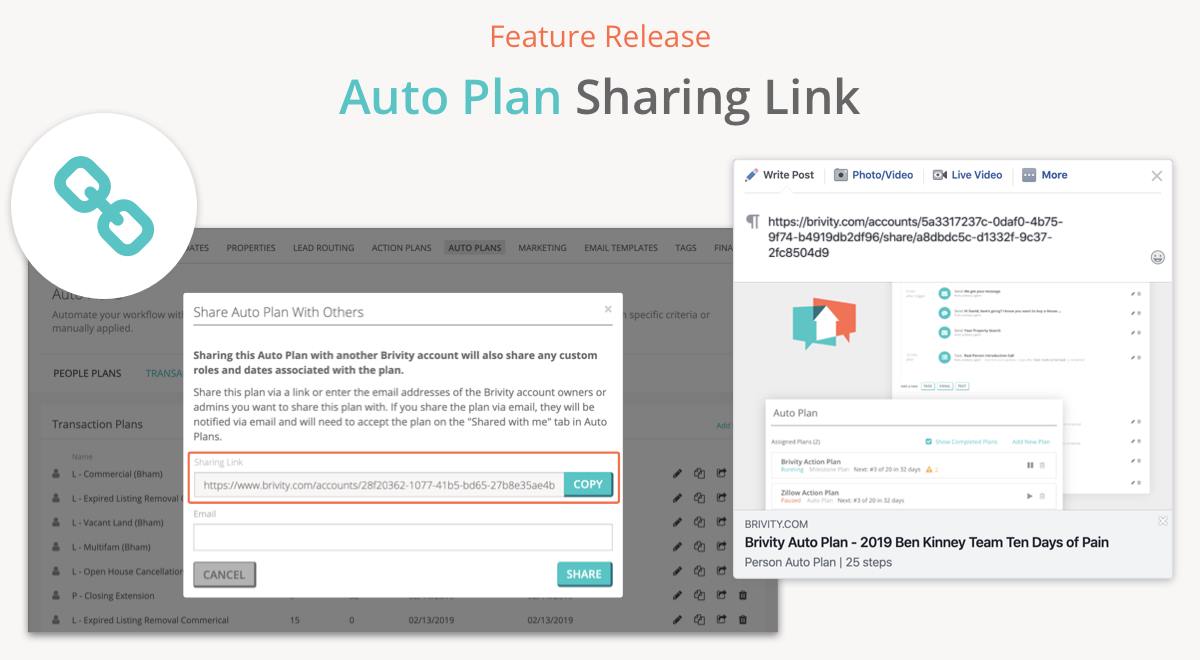 4. PieSync
Have you ever wished contact records in Brivity would sync with your Google Contacts? with Docusign? or with KW Command? Don't IMPORT your database. Stay synced to your other systems with our new PieSync integration. The connection can continuously keep your database synced as there are updates to contact records in any connected system!
First, set up a PieSync Account. Second, turn on permissions for your Brivity account and begin syncing!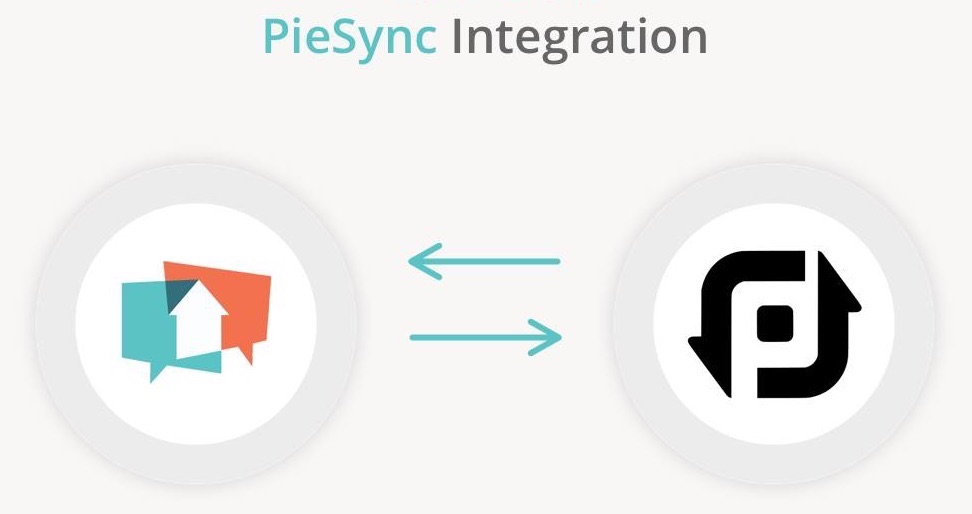 3. Brivity GO updates
The Brivity GO app was still new when 2019 started, but we were able to update it to include most all CRM features quickly. The app actually deserves it's own top 10 list!
10. Add a quick note from any screen via the floating action [+] button.
9. Copy/paste contact info to Brivity GO.
8. Text messages sorted left and right in text message threads (users vs. contacts).
7. Swipe between contacts.
6. Add, edit, delete, and create tags for contacts from your smartphone.
5. Contact Filter options added - also access active Smart Lists.
4. Website Dashboard Added - every inbound showing request, home valuation, start offer form, and ask a question form in one place on your app.
3. Swipe right over Dashboard entries to interact with the contacts.
2. Added Message Center to see and respond to all texts on one spot.
1. Push notifications for new leads, lead transfers, and text messages. To respond or interact, just click on push notification!
Coming to Brivity GO in 2020 will be transactional functions to stay on top of those on the GO too!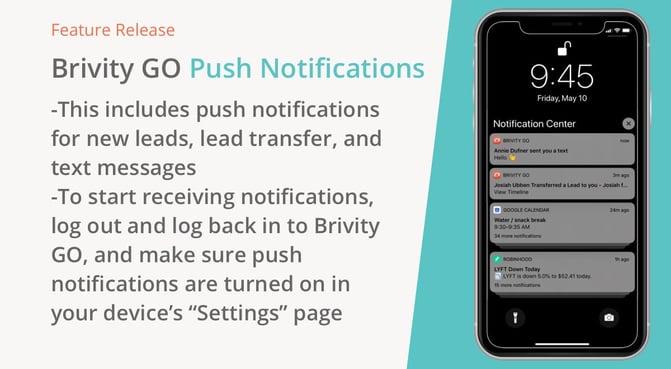 2. Advanced Smart Filters + Saved Filters
Brivity added a ton of Advanced Smart Filters to your account this year to help you find in the right people to reach out to everyday and to save you time!
Here's some filter options we added:
Has/doesn't have Auto Plans
Has/doesn't have Market Reports
Has/doesn't have Listing Alerts
Has/doesn't have Tasks
Have/haven't had communication in [timeframe]
Have/haven't visited my Brivity website in [timeframe]
Has/doesn't have email address
Has/doesn't have a phone number
Has/doesn't have a home address
Date Submitted
Clear All
Tasks - None Created, Over Due, Due Today, and
Save a filtered list -when you filter on any list of contacts, you can now save and name that set of filters for easy access in the future. Saved filters are unique for each user, so teammates can have their own set of filters. Find your saved filters on the left menu bar under the Leads Index.
In early 2020, we plan to add exclusions to filter options. Then you'll be able to filter by people say "with an email, with an address, but exclude contacts with [this] tag."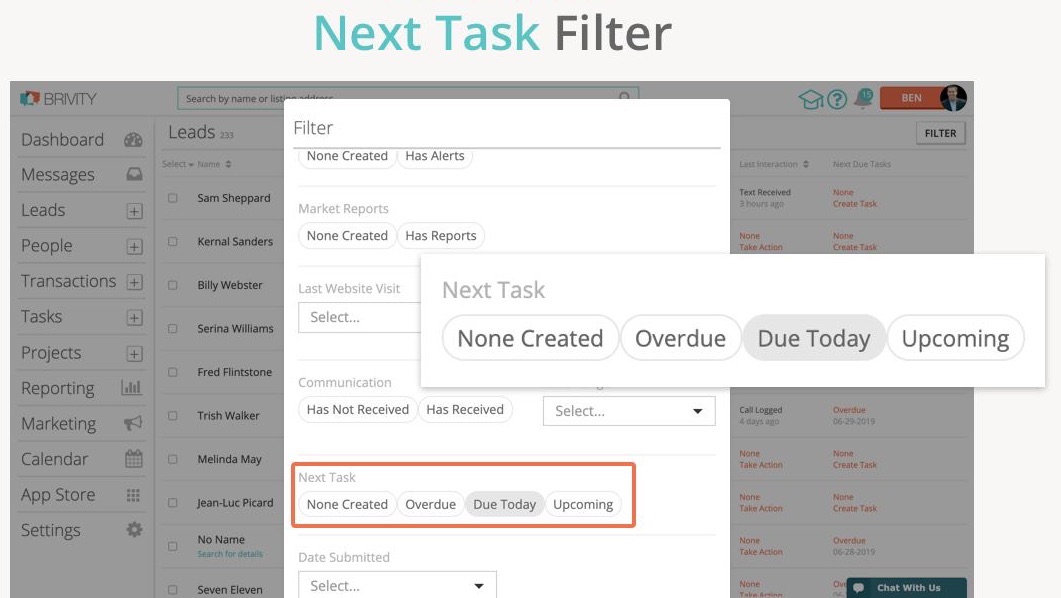 And now... for our #1 feature release of 2019...
1. The Brivity Dialer
Get through your daily lead-gen time faster with the Brivity Dialer. Time is money, and you have a limited supply. Save time and convert more leads with the Brivity Dialer. The system will dial one contact at a time, in a quick fashion to save time between calls.
With the new dialer, you can select a list of contacts and click "Call" to quickly and easily dial through any list of contacts!